Table Runner Anniversary Gift
It was my sister-n-law & her new hubby's first anniversary on the 14th of August. It is hard to believe a year has passed since we were all in Las Vegas for their wedding. The moment I spotted the tutorial on
Cluck Cluck Sew's blog
I knew it would be a perfect gift to make for them.
I used one charm pack of Cherries Jubilee by American Jane. I have had this charm pack for awhile, waiting for the right project to use it in.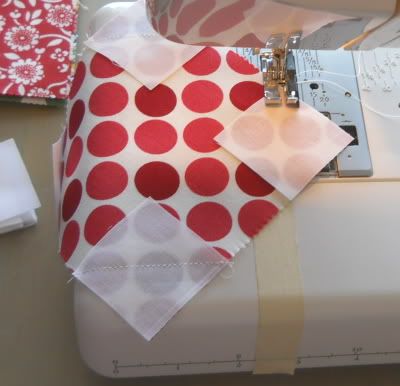 The runner is composed of 40 snow ball blocks. I used the method in the tutorial for making the blocks by putting a piece of tape on my machine marking the line of sewing, instead of marking a line on each white square. This worked beautifully and saved me some time.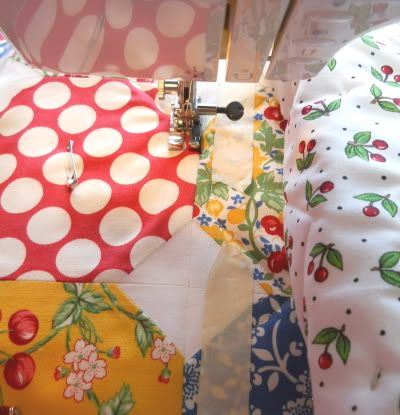 For quilting I did an out line. It was more of an inline that I followed a ¼ inch inside the blocks across. I had to put some tape on one side while quilting to remind me not to cross over to that side accidentally. In this photo you can see on the right what fabric I used on the back. It was a white with little cherries all over it.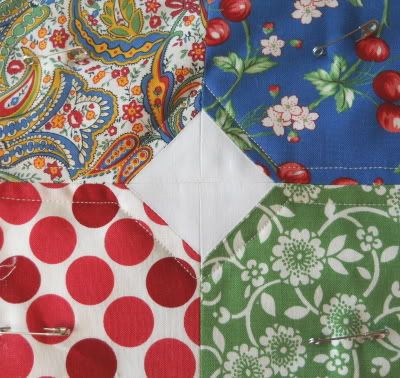 Here is a close-up of the quilting. It left a nice pattern on the back side.
Overall I like how it turned out. I had the most trouble with the binding. It came out a little messed up on the back side, I think because it was store bought and not wide enough. For future quilt projects I think I will make my own binding and also hand sew the binding on the back side. It adds a lot more time onto the project but I think worth the effort.
If you would like to make one the tutorial I used you can find at Cluck Cluck Sew
HERE
!