San Antonio Texas Vacation
Warning a very long vacation post. I finally have a block of time to sit down and tell you all about our San Antonio TX vacation. It was a few weeks ago and already feels like forever ago. With Chloe being 2 years old and airline tickets being as expensive as they are we decided to find a place close enough to drive to with in one day for our summer vacation destination. We live in Southern New Mexico and the perfect destination was San Antonio. So we packed up the car and headed out around 5:30 am. Chloe was in good spirits for most of the drive.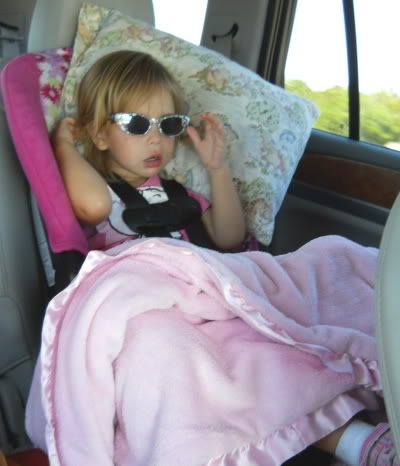 I believe it took us 11 and a half hours total to get to our destination. By the end of the journey we were all ready to get the heck out of the car.
Our hotel had free breakfast included which was great to just go down to the lobby and grab some food before starting our day.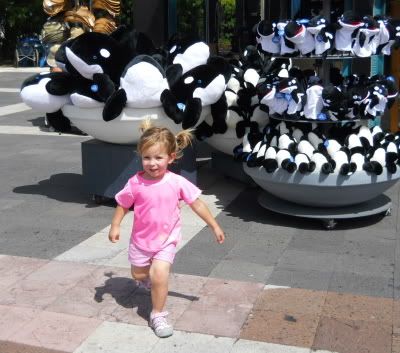 Our first day we headed to Sea World. I have not been to a Sea World in awhile and I think they have greatly improved over the years.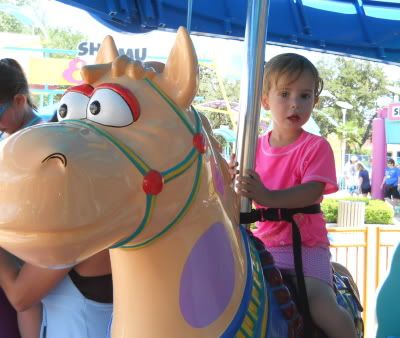 Chloe is obsessed with carrousels. Chris and I would take turns and ride them with her. This was the first time we allowed her to sit on it by her self with out one of us holding her on it. This allowed us to get on a horse our selves and enjoy the ride.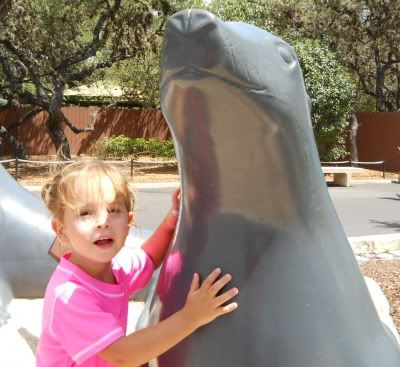 Chloe is an animal lover so Sea World was right up her alley and she enjoyed seeing all the wonderful sea life.
Over in the Sea Lion area there were several babies. Here is one that was just a week old. You are able to buy a handful of fish to feed them. I would call the Mom over and give her all the fish I bought. So adorable to see the babies.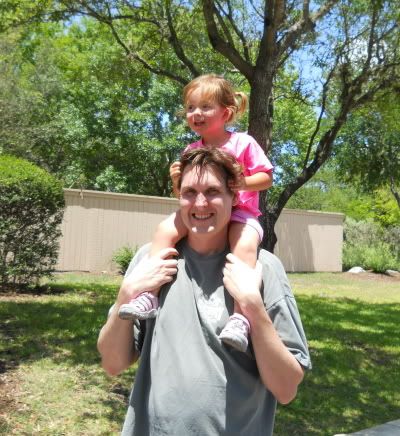 Chris being 6 ft 2in, Chloe loved to get up on his shoulders as we walked around. When we returned home after our vacation Chloe started putting her stuffed animals and dolls up on her shoulders and walks around the house just like she did with her Daddy. It is so sweet to watch.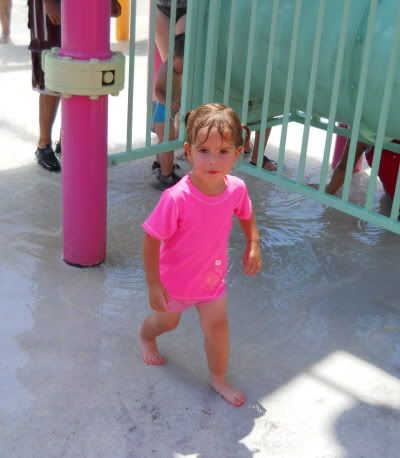 One of the cool things about this park is there was a kids wet area where there was water spraying out in all different places and the kids could get cooled off from the hot Texas temperatures. I was so glad I had brought Chloe's hot pink sun swim shirt. She was so easy to spot amongst all the kids and made it great to keep an eye on her as she ran around getting wet.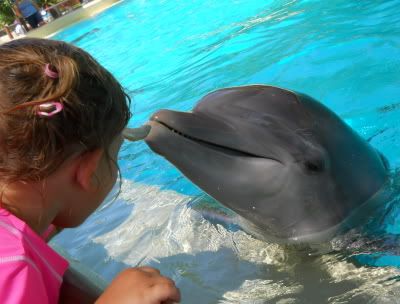 This is one of the coolest parts of Sea World. They have a tank with dolphins that you can buy fish and feed them right out of your hands. We spent 2 days at Sea World and spent a good amount of time just hanging with the dolphins.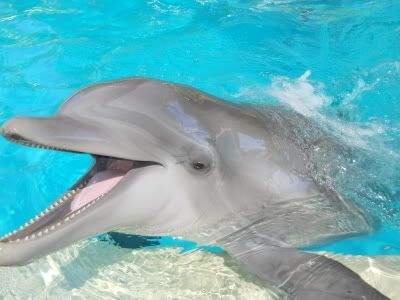 Look at that, I am still in aw of being so close to them.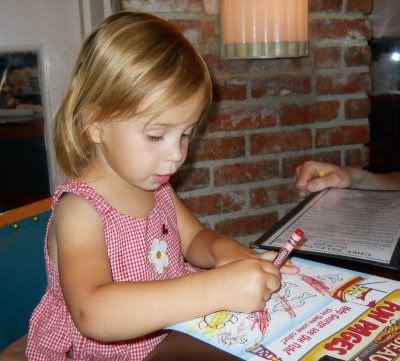 After a fun filled day at Sea World and a little nap back at the hotel. We went to one of our all time favorite restaurants called Pappadeaux. We do not have one of these restaurants any where near us at home. So we seek it out anytime we go on vacation. Chloe was flirting with an elderly couple at the next table over. She does pretty good eating out we just keep her busy and try to order her food right away.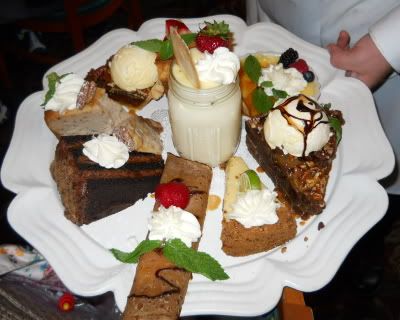 This is their dessert tray. We ended up getting a piece of key lime pie we took back to the hotel to enjoy later. I had a mango mojito while Chris had a Sam Adams. We shared an oyster appetizer. Chris ordered the large Alaskan king crab and I had the crawfish etouffee. Chloe got the mac-n-cheese with an ice-cream for dessert. This meal was unbelievably good as expected.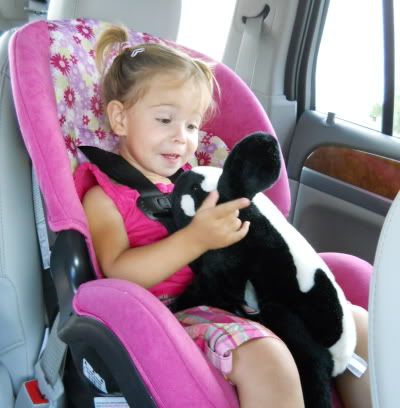 The next day we set out for the San Antonio Zoo. Oh did I mention Chloe got a stuffed Shamoo while at Sea World. She calls it baby whale and they have spent a lot of time together ever since he joined our family. He even has top ranking and is part of the select few she sleeps with.
I love a good zoo and this one is one of the largest in the US.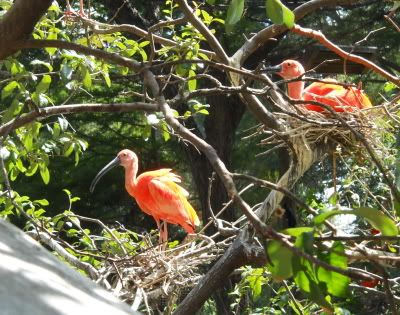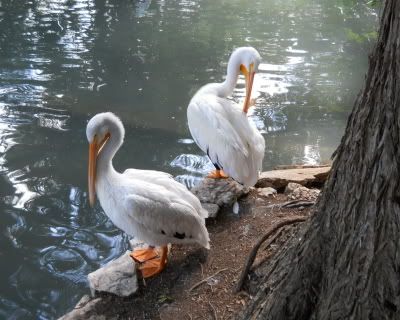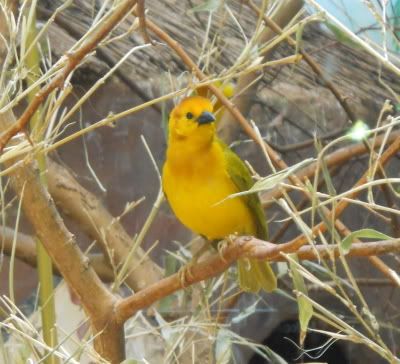 I loved this little bird. This photo was taken thru glass. I was very tempted to go home and get a little bird of my own after watching this one. I am sure our cat Cosmo would love for me to do that.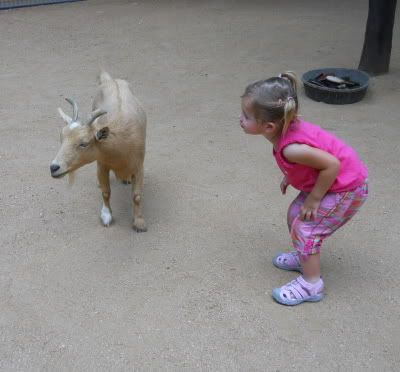 They had a little petting area that had a handful of goats. Chloe had a good time making friends with the goats.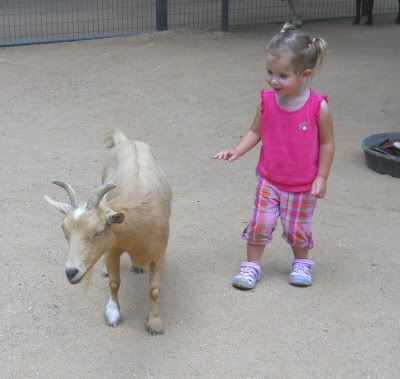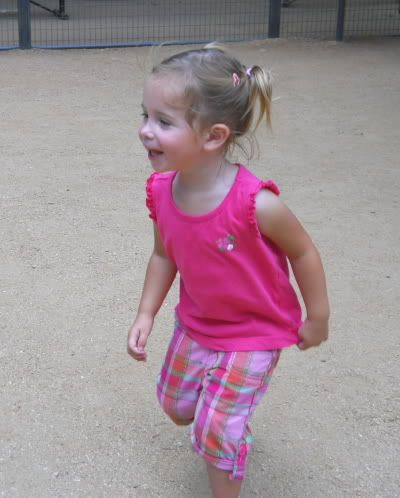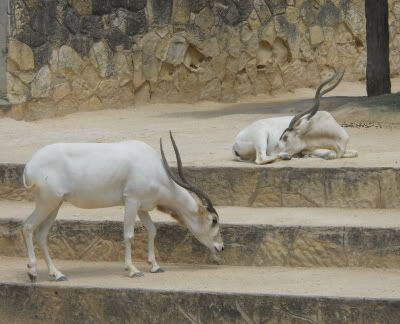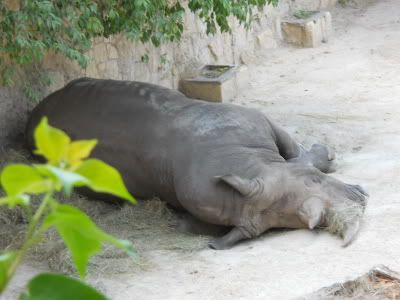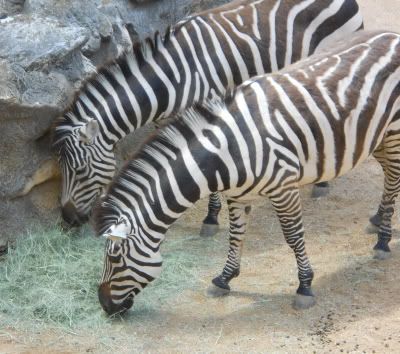 After the zoo we went to the Rain Forest Café restaurant for a late lunch. Here is Chloe munching on a kids pizza. She is keeping her eyes on the animatronic gorrillas that are right near our table.
That night we went to La Margarita Mexican restaurant. This is where I had a fishbowl size margarita and everything was right in the world. Kids eat free here. It was a perfect ending to the day.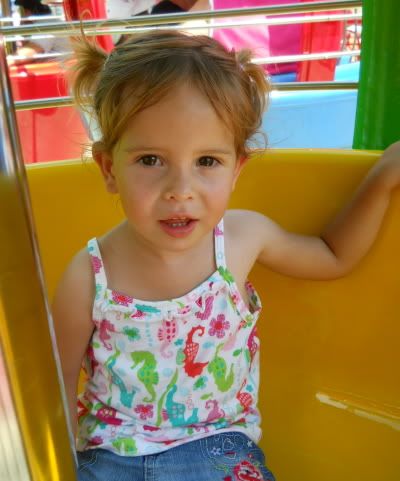 The next day we went to 6 Flags. This is Chloe on one of the rides. She was not tall enough to ride most of the rides but the ones she could get on she loved.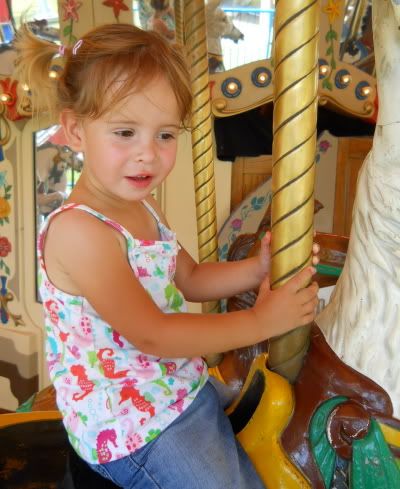 Of course they had a carrousel and we rode it several times. It was very hot at 6 Flags so we ended the day early.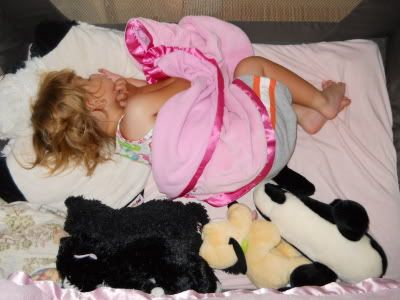 We headed back to the hotel for some much needed rest and some air conditioning.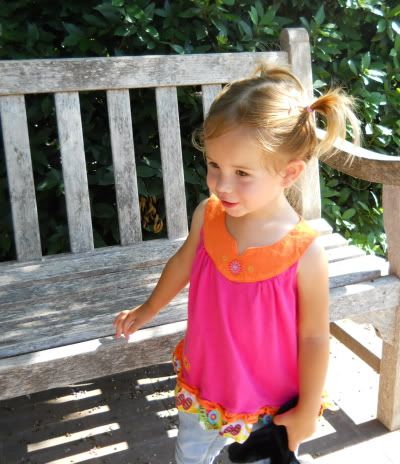 The next day we went to the San Antonio Botanical Gardens. I am a sucker for plants and beautiful flowers and am teaching Chloe a love for gardens.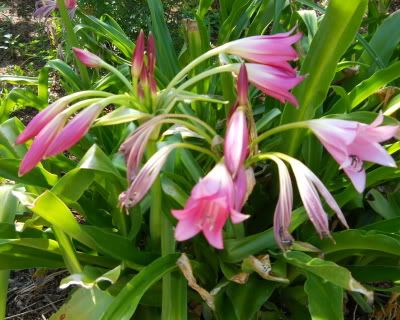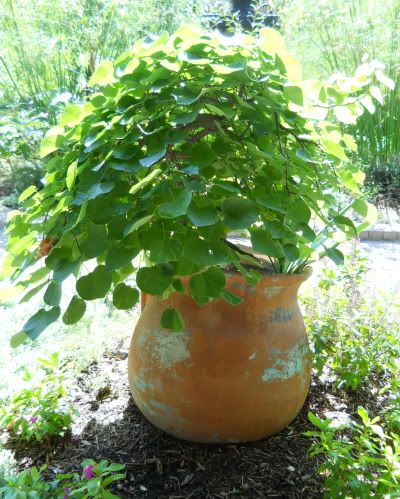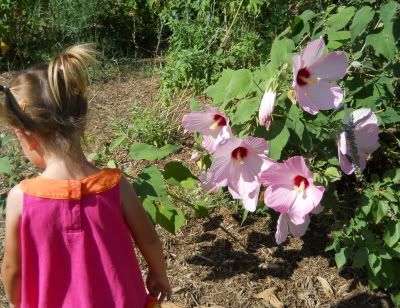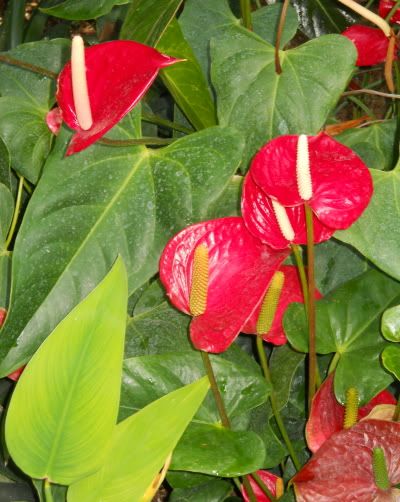 We had a wonderful time exploring the property and seeing all the beautiful plants.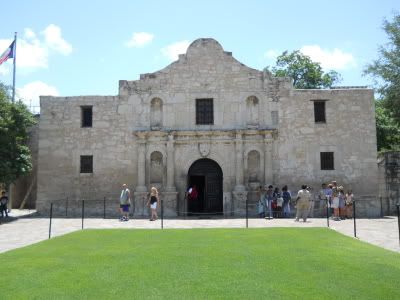 Next we headed downtown to see the Alamo. I normally love to visit historic buildings and learn all the history there is to go along with it. The Alamo was a bit crowded and it was not the best experience over all. It was free so that is probably why it was so crowded.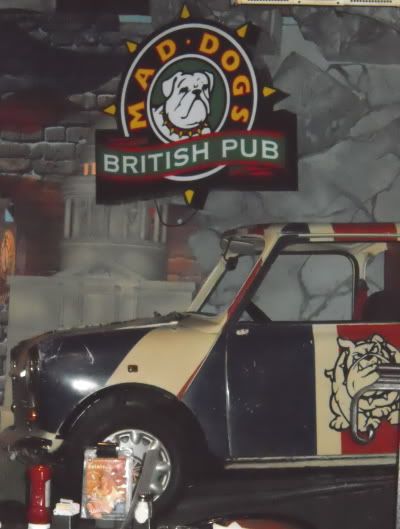 Next we headed to the downtown river walk area for some lunch. We found a brilliant little British Pub called Mad Dogs.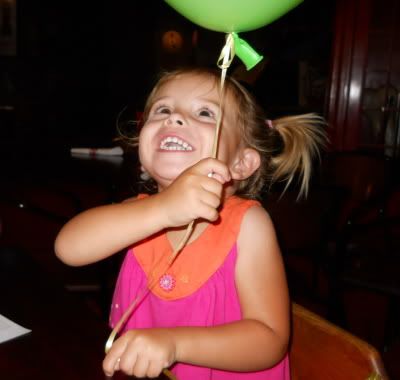 The service here was excellent. One of the lovely ladies dressed in a mini kilt took a liking to Chloe and brought her a balloon.
Chloe loved this balloon till it met its death several hours later. I took a mental note that if ever I needed a few hours of time to get something done to get Chloe a balloon and tie it to her pants.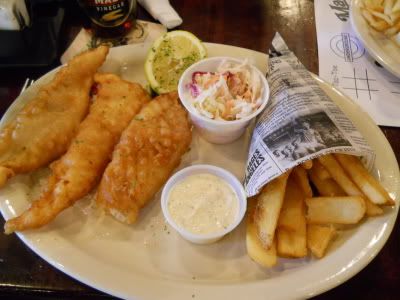 I ordered the fish and chips. Oh yummy, I wish I was there now.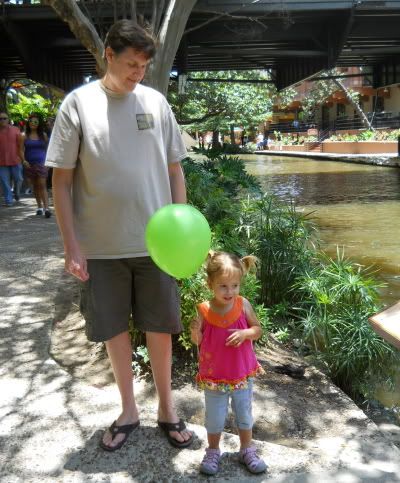 This photo you can kind of see the River Walk area. It meanders around and there are several restaurants and shops along the way. You can also take the little boat that goes up and down to different stops.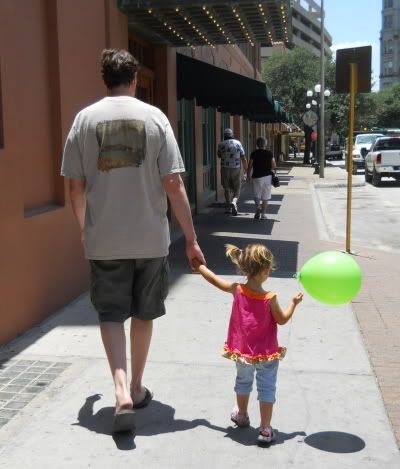 Here is Chloe still hanging on to her balloon.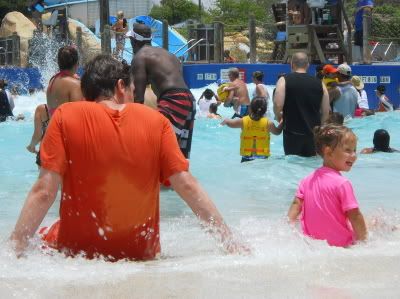 The last day we went back to Sea World. This time we did a lot of the same things we did the first day but we also went into there water park area. There is a great wave pool along side a wade pool.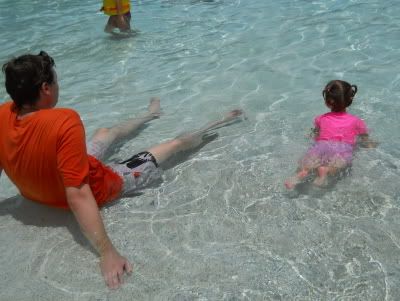 Chloe had the best time splashing around and getting wet.
The San Antonio vacation was wonderful and we are so glad we went. It was a perfect destination and plenty for all of us including a toddler to enjoy.