July Wrap Up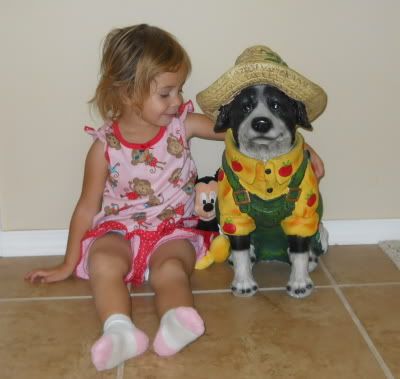 Wrapping up the end of July it is hard to believe we are half way thru the summer. This dog statue I found in the clearance area of a Crackle Barrel shop. I got it dirt cheap and thought it would look good out front near our front door. Turns out Chloe likes having the dog inside so she can talk and play with it. For now he will stay inside till she gets bored with him then I can sneak him out side to his permanent spot.
I am a Winner
I hardly ever enter to win anything on the blogs. I only try for things I really want. April over at
Sew to Speak
had a fabric giveaway for the full collection bundle, 30 fat quarters total of Anna Maria's new collection, LouLouThi. I left a comment in hopes of winning. It was on my mind every day waiting for the day the winner would be announced. You know in your head where you think there is no way you could win but there is a small glimmer of wishful hope. When I saw my name listed as the random winner, I was shocked and so excited.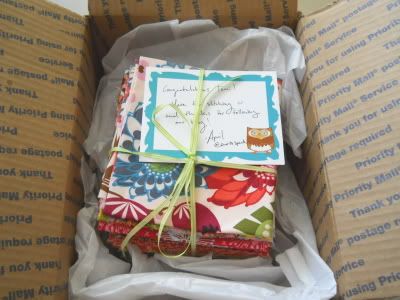 The package came shortly after they received my info. I did the happy dance all day and kept saying I can't believe I WON!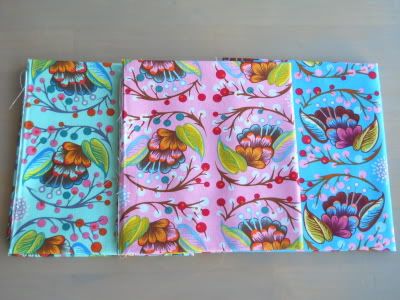 My favorite ones out of the stack are these three. I think I will pull these three out and use them for something else. The rest I am thinking to use in a half square triangle quilt and have a few large block areas to showcase some of the fabric.
Other Projects & Progress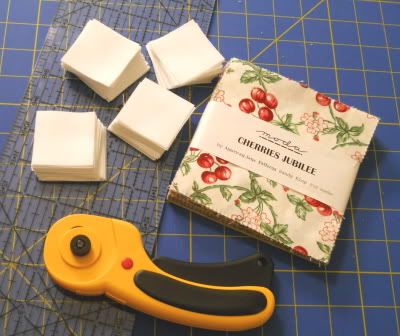 My current project is a little hush, hush, because it is a gift I am making. I can say I am using a charm pack of Cherries Jubilee by American Jane and a ton of little squares. I will reveal all once it is done and gifted.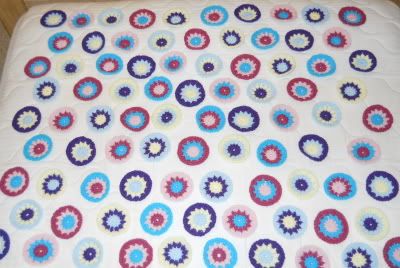 My Hexagon blanket is coming along. I lay the center circles out in a pattern to kind of see what my plan would be. I decided to have rows of 10 and 9 across and do a total of 17 rows down. So it would be 9 rows of 10 & 8 rows of 9, figuring out to be a total of 162 center circles. I have about 10 more to make. I also decided I wanted to make the half hexagons for the gaps along the edges where I only have 9 circles across. So I will need to make 16 half hexagons for those. Steady as she goes with this one.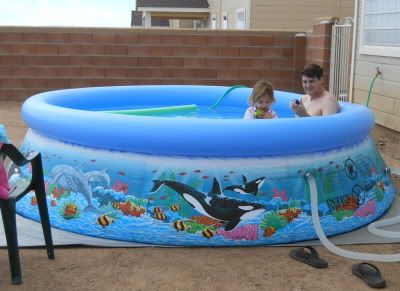 This month we set up the blow up pool. It is a 10 ft circle, and came with a mini filter system. It is the perfect summer to have this thing since our backyard is not landscaped yet and we had plenty of space for it.
We can sit in it comfortably and Chloe stands with the water level a little above her waist.
One of us is with her at all times she is in the water. Chris and I both took a refresher CPR class a few months ago. Chloe can not swim yet and this pool is giving her lots of practice in the water. Personally, I love getting in this thing. I think we have as much fun as she does in it. Lots of fun in the sun and we can stay home to do it.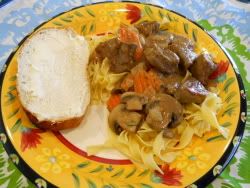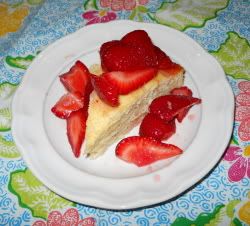 Some tasty things I made this month. I made the Country Dijon Beef Stew and served it over egg noodles. I got this recipe from February's Family Circle magazine you can find the recipe
Here
. It turned out super tasty and I will make it again. I also made a wonderful cake topped with strawberries. For the cake I used the Vanilla Cake recipe from the book Apples for Jam by Tessa Kiros. I am normally a chocolate all the way girl but this simple vanilla cake was the bomb. It is so good. I will make this cake over and over again until the day I die. It is the perfect compliment to any fruit topping or ice-cream.
Thrift Store Finds
This month I went to the local thrift store. Every few months I plan a trip there to pick up some cheap play clothes for Chloe. On the few days that she goes to Daycare when I pick her up I am presented with a child that I dropped off clean and stain free but now is head to toe covered in spots and stains. I learned very quickly to not put her best clothes on her for Daycare. I found for Chloe pictured on the left side: 4 pairs of shorts, 2 T shirts, a seersucker dress and a toddler bed sheets set. For me on the right side of the photo I found 4 flat sheets & a beautiful vintage yellow top sheet. I use the sheets for quilting. It is a cheap way to find large amounts of fabric and some work perfectly for the back of quilts. In total for the whole loot I spent 20 bucks.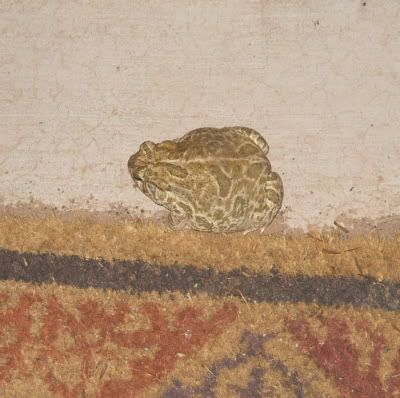 Well thats a wrap for July. I am looking forward to August and all the summer goodness it brings. Our rain season finally started and brought with it this little guy. We have found him on our front porch in the evenings taking advantage of our porch light and slurping up all the bugs he can eat. He is a real fatso and has these little tiny legs. I will leave you with some photos of Chloe taken in July.