Yarn Along
Ginny over at
Small Things
does a
yarn along post every Wednesday
where everyone can blog about their yarn projects and also the books they are reading. I thought I would join in the fun. I am reading Bob Greene's book "20 Years Younger". The book breaks down into 4 categories to work on; they are Skin, Diet, Exercise, & Sleep. It is a good read and is motivating me towards a healthier lifestyle. I am currently working on my Hexagon Blanket.
I decided on 2 groups of 3 yarn colors for my hexagon center flowers. This is the first three colors and their 6 color combinations.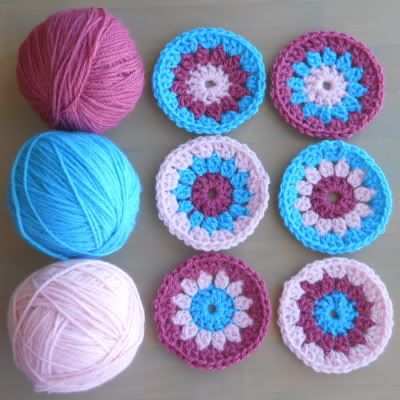 Here is the second group of 3 yarn colors and their 6 color combinations.
So far I have completed 60 center circles for my Hexagon Blanket. I am planning to use a cream color to join them all together into Hexagons. Now that the pattern is pretty much engraved into my brain after 60 circles, I can get a handful done a day working here and there when I get a chance.