Farmer's Wife Quilt Along
A couple weeks ago I started seeing a bunch of my favorite sewing and quilting blogs mention the Farmer's Wife Quilt Along. After a few days of obsessively watching everyone else, I took the plunge and joined in. I guess you could say the farmer takes another wife.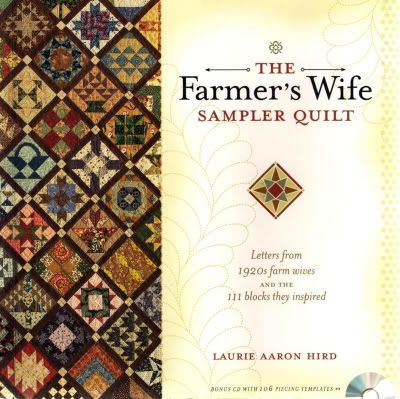 The quilt along is a large group of people on the internet all making the Farmers Wife Sampler quilt from the book. I bought my book from Amazon. I ordered it with free shipping so it took forever to make it to my front door. The quilt along was all started by
Angela at Fussy Cut
&
Amanda at MsMcPorkshopQuilts
. You can find all of the members on The
Farmer's Wife Quilt-a-long Flickr page
. There you can see everyone's latest blocks they made for their quilt.
The quilt once finished is a Queen Size quilt and made up of 111 blocks. The quilt along is casual and work at your own pace. The majority are trying to make 2 blocks a week. Even with this pace it will take a year to make this quilt. I decided to make mine Scrappy. I have accumulated a bunch of whimsical and cutesy fabrics since I was pregnant. So over the last 3 years I have a good pile of stash that I can use to make my quilt.
I am making the blocks in order and here are my first 2 blocks
#1 Attic Windows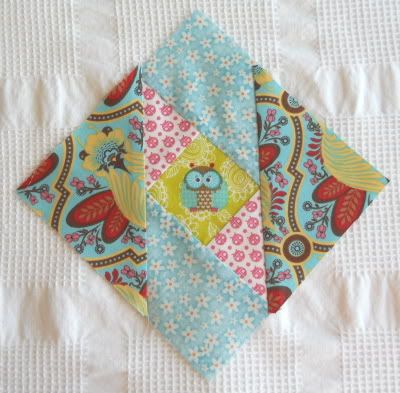 #2 Autumn Tints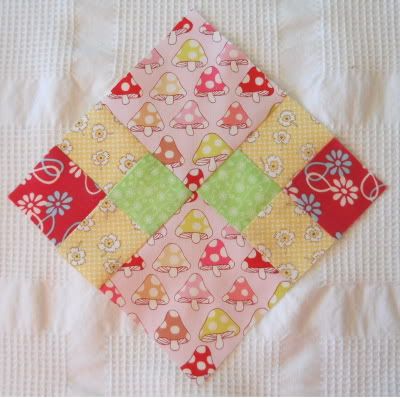 I am photographing the blocks on a diagonal because that is how they go in the quilt. I am still a beginner quilter and have not yet mastered getting my points exactly right. I am using this sampler quilt as a learning process to sharpen my skills and to learn new things. So far so good and I love how my first 2 blocks came out.
Linking Up
Our Creative Spaces