Weekend in Southern Oregon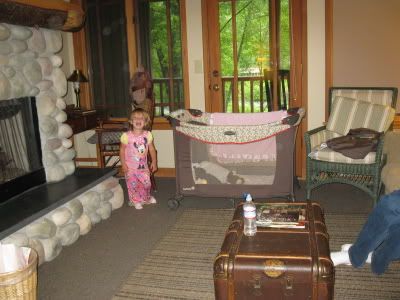 We spent last weekend in Southern Oregon. Chris's Grandfather was having his 90th birthday party that Saturday. So we flu out on Friday and came back on Monday. The whole flying business to get to Southern Oregon and to get back home was a torturous experience with a 2 year old. The two days that we spent there were wonderful and well worth all the trouble. We stayed at the WeAskU Inn that is in Grants Pass, Oregon. This is our second time staying there and is a real treat. We stayed in one of the cabins that the back porch overlooks the Rogue River. This is a photo taken in our cabin. You can kind of see the sitting area with a lovely fireplace and plenty of room for Chloe's pack-n-play and room for her to run around.
The first morning we met up with Chris's Dad and step Mom, Chloe's grandparents, at the Tap Rock Northwest grill. The restaurant was great and we had a beautiful view while enjoying a leisure breakfast. After eating we went outside and walked along the property that was against the river. We had a wonderful visit with them and Chloe was also able to meet one of her cousins close to her age.
The birthday party was that afternoon and Chloe was able to meet her great grandpa for the first time. We had not seen him in several years so it was nice to get a chance to visit with him. It was great to hear stories of Chris's grandpa from his friends and family.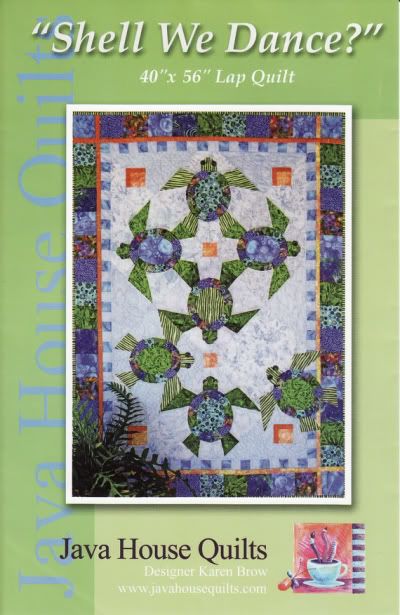 The next morning we met up with Chloe's Grandmas in Jacksonville Oregon. We walked over to the GoodBean Coffee Company and hung out for awhile while I drank a Chai Latte. I stopped in a quilt shop named Country Quilts. I came out with this quilt pattern titled "Shell We Dance?" by Java House Quilts. I love turtles so there was little chance of me seeing this and not bringing it home with me.
We then went to the Jacksonville Inn for their Sunday brunch. The food was excellent and the service was even better. Overall we had a wonderful time and it was great to be able to spend time with Chris's family. I will leave you with some more photos I took on the trip.