May Wrap Up
I can not believe May is over and Summer is here. This month I added 2 plants to my front yard. We lost 4 plants this winter that never recovered. The plant pictured above is a Bougainvillea "Bush Royal Purple".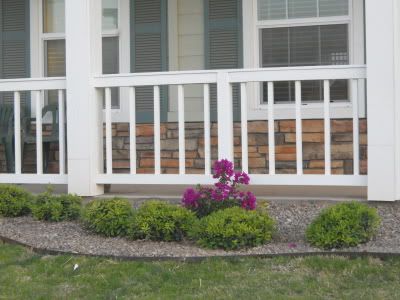 I planted it next to our front porch hoping it will grow up the posts and cascade over with a ton of flowers some day. This plant demands my attention when I look out my front windows. I love it, and love to see a punch of color.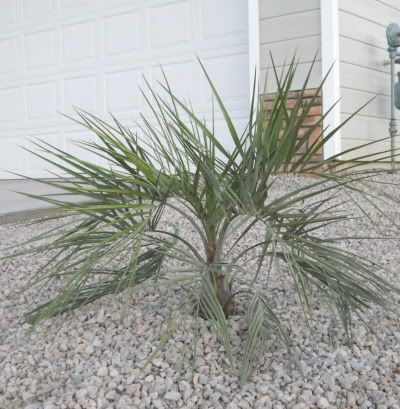 This is a Pindo Palm I also planted this month. We usually vacation in tropical places. Palm Trees to me feel like I am on vacation. I have wanted to have one of my own for awhile now. I think it will do great in my climate for the majority of the year. I just might need to give it a little TLC in the winter if our temperatures drop to low, by maybe covering it up the first few years.
Hexagon Blanket
I wasted no time starting a new project. I have been looking at all the Hexagon blankets online on Ravelry & Flickr and had wanted to start my own for some time now. I finally purchased some yarn on sale at WEBS hopefully enough to complete a blanket. It is Encore Plymouth Worsted Yarn in colors: #0180 rose, #0235 aquamarine, #0029 pastel pink, #0793 pastel blue, #0896 pastel yellow, #1606 purple.
Here is one of the many inspiration blankets. This one is by Maxine over at
Tiny White Daisies
. I plan to make mine similar to hers. I will be using a cream color yarn forming the outside of the hexagons joining all the center flowers together. The pattern I am using is free and you can find it on Ravelry
HERE
and also
HERE
.
The Summer of Sewing
This summer I am planning to spend plenty of time with fabric and my sewing machine. My machine has been packed up since the move last October. Hopefully it will not hold any grudges. I have purchased the fabric above for a little Patriotic project to kick off my summer of sewing. More details to come.
Movies
Last weekend we took Chloe to see Kung Fu Panda II. We went to the 2D showing not wanting to deal with the glasses. We wanted to see how Chloe would do at the theater. There is a Winnie the Pooh movie coming out this summer I want to take her to so we thought we would practice with Kung Fu Panda. Chris and I had bets going as to how long we would be able to stay. I said 20 minutes. We were both wrong and she was able to sit thru the whole hour and a half and we even sat a little thru the credits while people were leaving. Some of the things that helped was we got there when the previews had already started so there was no wasted time sitting around. Also we sat near the front so the screan was literally in your face with little other distractions. Also there was booster seats available at the theater to use. The only thing she needs to work on is her whisper. Through out the movie she would say Mommy look or Mommy Panda, loud enough for many people to hear. Luckily there was lots of children in the theater and many kids talking. Overall a big thumbs up and all three of us had a good time enjoying a movie together. We are looking forward to the Winnie the pooh movie due out later this Summer.
I will leave you with some photos of Chloe taken in May. She let me put her hair up this past weekend. It lasted about 15 minutes.