Little Patchwork Blanket
I completed Chloe's Little Patchwork Blanket. The inspiration behind this blanket is from Lucy at Attic 24, her
Zig-Zag Baby blanket
. I thought it was brilliant to put the little squares together on the diagonal. Here is how the project came together.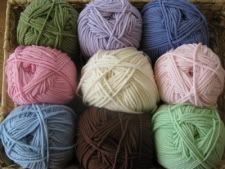 I used Baby bee Hushabye yarn in all solid colors. Top row across colors are Baby Sage #82, Sugar Plum #60, Meema's Blue #39, Middle Row: Boo Pink #40, Naked #11, Pink a Boo #36. Bottom Row: Baby's Blue #50, Chocolate #80, Mint Charm #26. I used one skein of each to complete the project.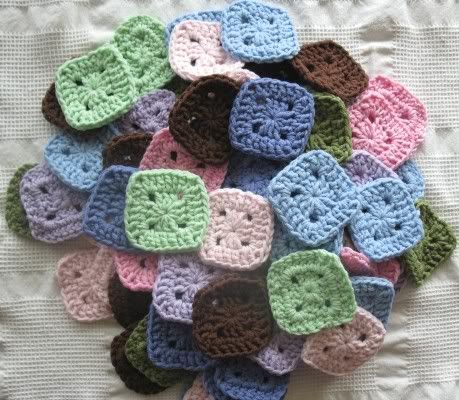 I started with making little granny squares. I liked how easy and portable it was making the little squares. It was amazing how fast you can turn out a bunch of squares. I would make them in the evening while watching TV or if I had a moment during the day while Chloe took a nap. I think it came out to 150 squares and 35 half squares to complete the blanket.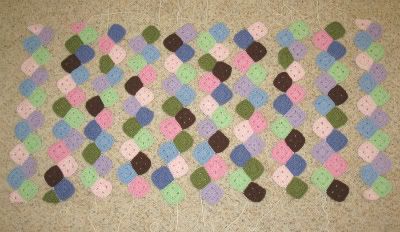 Then I sewed the blocks together into zigzag strips. Then I added half triangles onto the ends and top border to make the blanket square.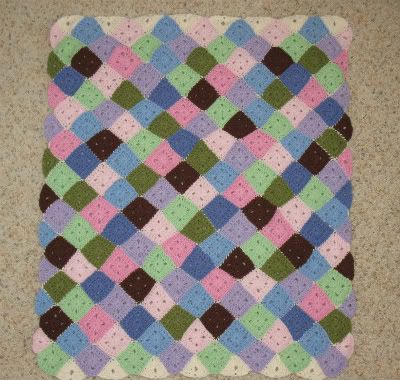 Then I sewed all the strips together into a blanket. I used the cream colored yarn when sewing all the blocks together and also for the half blocks on the top and bottom border strips.
I added a single crochet border that I went around several times with varies colors from the blanket.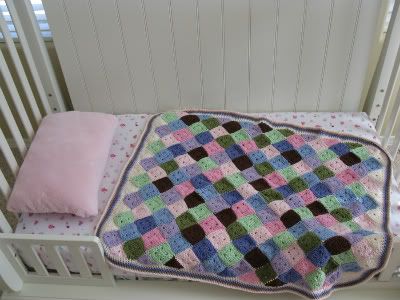 Tada! It fits perfectly on Chloe's toddler bed.
Chloe is admiring her new blanket. She is learning her colors and this blanket has lots to practice with.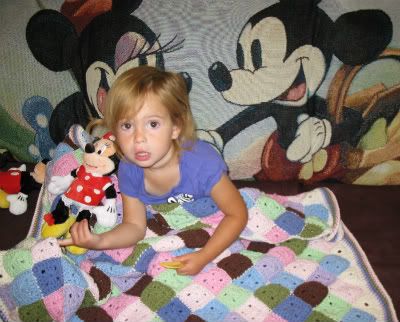 The Little Patchwork blanket is a perfect size for Chloe to drag around the house and play with. I love how it turned out and am so glad I made it with yarn that I can throw into the washing machine when I need to. I love how this blanket turned out and am excited to start my next project.