April Wrap-Up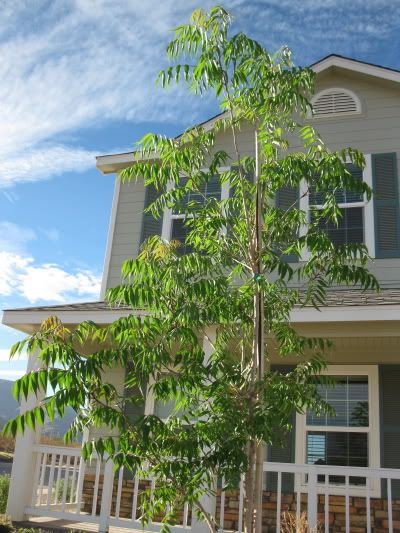 The warmer weather has brought back the plants in my front yard. This is the Mimosa tree that now has some leaves. It is so nice to look out the front windows and see a green tree.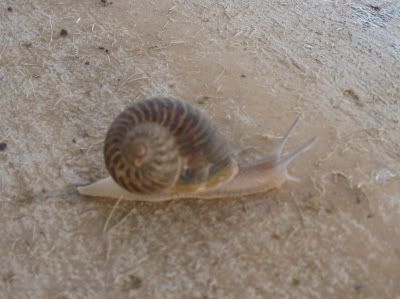 One morning I was out side very early to check one of the sprinklers and found this lovely snail heading across our front porch and towards the front lawn. He was so cool looking I let him go on his merry way. I will have to keep an eye out and see if he has settled into any of my plants for his meals. So far I have not noticed any damage. Not sure if they are enemies of the garden or our friends. I know if he was a slug I would have tortured him in a slow cruel death then nailed him to the porch low enough to show any of his friends they were not welcome in my plants. I had many a battle with slugs when I lived in Oregon. Here in the southwest desert I was very surprised to see the snail.
I have been working on my Little Zig Zag blanket this month. I have completed all the squares and the half squares for the ends. I also have sewn together the strips, and will begin to sew the strips together. This is my first time making granny squares and sewing them together. I am learning a lot and realize now the importance of making the squares exactly the same size with the same amount of stitches. It will look more like a scrappy blanket than a work of perfection, but that is how you learn. I already have thoughts on my next granny square project, which is motivating me to finish this one.
I am looking forward to May. We plan to get some things for Chloe to do in the back yard for some much needed energy release while playing outside. Right now our backyard is just dirt and we probably will not get it landscaped until Fall due to the large cost. It is a good size backyard and will cost a good chunk of change to get some basic landscaping. So for now we are thinking to get a little sandbox and possibly a kiddie pool we could all sit in. Also in May I plan to find the time to tackle my office/craft room. It is the last room in the house that is still pretty much packed up. My sewing machine is still in the box since we moved and I have big plans for lots of sewing projects this summer. I really need to get that room cleaned up, unpacked and organized.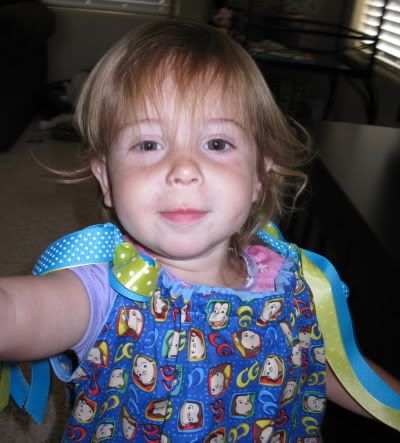 Chloe's hair is at a very messy stage of growth. It is like when you get a bad hair cut and you have to go through an awkward grow out. It has taken her 2 years to get this much hair and it still is barely long enough to pull back. Hopefully it will continue to grow and we will be able to pull it back out of her face. It doesn't seem to bother her at all; I am the one that is constantly smoothing it back off of her face. I will leave you with a few photos of Chloe taken in April.