Oatmeal Cookies
Today I made oatmeal cookies. I have never made oatmeal cookies before, there always seemed to be a better cookie to make than oatmeal. Since all three of us have a major sweet tooth I thought maybe I would try to be a smidge on the healthier side making oatmeal cookies instead of whatever double fudge chocolate cookie recipe I wanted to try at the moment. This recipe is called Grandma Mollie's Oatmeal Raisin chocolate chip cookies. Of course it does have chocolate chips in it, probably why it caught my attention in the first place. I tore out the recipe from Country living magazines September 2009 issue. You can find the recipe
HERE
. These cookies turned out wonderful and both Chris and Chloe approve.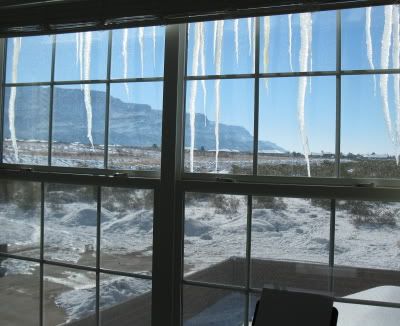 We are finally starting to thaw out after all the bad weather. The weather caused a black out in our town due to high consumption of electricity. The electric company was able to get all the power back on in a reasonable amount of time. The biggest problem was that the natural gas company shut down all the gas. With no natural gas we had no heat and no hot water. Luckily we had two space heaters to help keep us from being too cold. It was about 2 ½ days until they got the gas back on at our house. The guy rang my doorbell the afternoon of the third day and said he was there to turn the gas back on, I looked like hell with flannel pj pants on with a couple of layered tops and a sweatshirt, my hair looked like a hot mess since I had not washed it in a few days. His name was Justin and I could have kissed him square on the mouth. Chloe even liked the guy as she stood beside me all bundled up saying hi to him for the 10th time as he went around the house turning things back on and making sure the gas was on and working correctly. I have my fingers crossed that will be the worst of the weather we will see this season.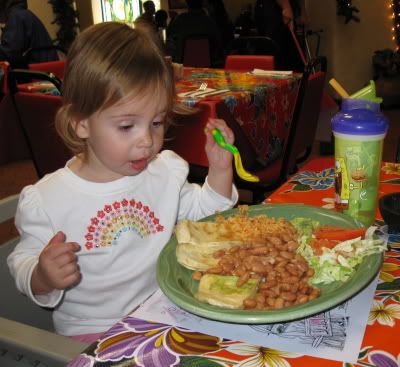 We made a trip into a nearby town to do some shopping and to stop at our favorite Mexican restaurant. Chloe is enjoying a plate of cheese quesadillas with some beans and rice. This place is pretty cool because not only do they have amazing food they also have a large bird cage in the lobby that houses several exotic birds a few parrots, cockatiels, and even a toucan. Chloe got a big kick out of watching the birds and talking to them.