Ottoman Make-Over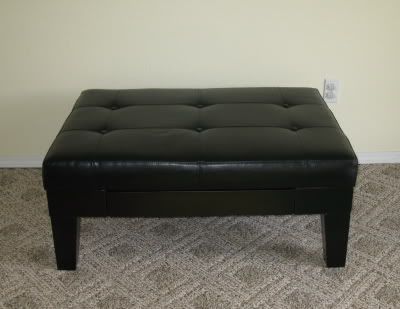 This is the ottoman I bought out of desperation while very pregnant. I really needed it to put my feet up in the evenings. I found it in the clearance section of a local furniture store. I loved the size and shape and that it had a drawer. I hated the fact that it was all black and did not match anything but the electronics in the room. So I covered it up and it worked perfectly getting me thru the long uncomfortable pregnancy.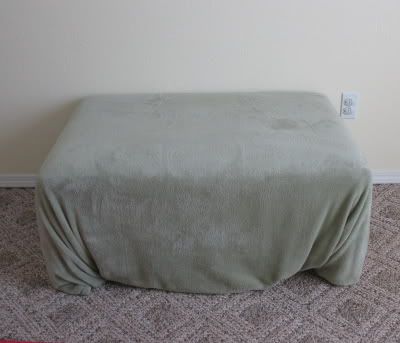 I eventually moved it into Chloe's room and covered it with a blanket that matched her décor. I usually have her diaper changing basket on it, and both Chris and I sit on it while she plays in her room. I decided to go ahead and fix it up for her room in our new house.
Here is the new look. I took the seat off and painted the base an off white color. Then I covered the seat with a striped fabric in cream, pink, and green. This was my first time using a staple gun, I love that thing. I am looking around the house trying to find more things I can use it on. I am happy with the result and it will look even better in her new room once we move because the wall color will be a bigger contrast than what she has now. I can check this project off my list of things to get done before the move.