Apple of My Eye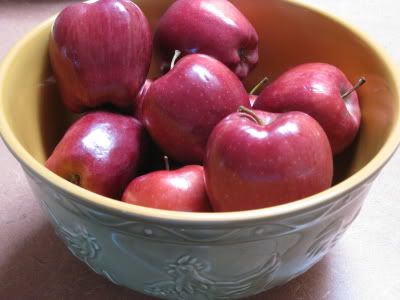 It is apple season. This time of year I am all about the apple and wallow in my love for them. There are so many different things you can make with apples and they compliment many other foods. They are even perfect all by them selves plucked off the branch and shined on your shirt, ready to take a big bite out of. The phrase "apple of my eye" goes way back to Old English and is in several pieces of literature from back in the day. One of my favorite pieces that uses the phrase was by Shakespeare's "Midsummer Night's Dream" written in 1600. In ancient Greece the apple was to be sacred to Aphrodite, and to throw an apple at someone was to symbolically declare one's love; and to catch it was to symbolically show one's acceptan
Johnny Appleseed Day
Johnny Appleseed was a real guy named John Chapman and was among the American settlers who were in the movement west in North America. As he traveled west, he planted apple trees along the way, and sold trees to settlers. As he continued his journey the legend of Johnny Appleseed grew. He was born on September 26, 1774, which is where the date for Johnny Appleseed Day came about as September 26th. Of course I was not going to pass up this holiday with out cooking up some apples.
Apple Bread
I made a loaf of apple bread using the recipe by Tessa Kiros from her cook book "Apples for Jam". Tessa writes: "I love the name apple bread—it carries me off in my fantasy to some very green hills with chunky plates and bowls of fresh cream, with rosy cheeked children skipping about here and there." This bread turned out wonderfully, and I will make it again and again. It was a big hit and you can see from the photo that is all we have left of the loaf.
Apple Sauce
This is my second time making home-made applesauce. The first time I made it for Chloe when she had no teeth but was ready for solid foods. I used the recipe from Simple Recipes website. You can find the recipe
HERE
. My whole house smelt heavenly while this was simmering on the stove. A great thing about the recipe is you can freeze portions of it. Back when Chloe was younger I froze portions of the applesauce in ice cube trays and would pull out cubes to thaw for her as needed.
Apple Stem Game
Do you have any memories of playing games with Apples when you were a kid. Something us girls did while we were kids was when you were going to eat an apple you would turn the stem and every turn you would say the letters of the alphabet, and whatever letter you landed on when the stem broke off was the initial of the guy you were going to marry. Of course you would work hard on getting it to land on the initial of the guy you were in love with at the time. To this day I still do this game when I am about to eat an apple and coincidently it always lands on C for my husband Chris. LOL
This photo and the one above were taken from a small apple orchard down the road from us. Their trees are over flowing with apples right now.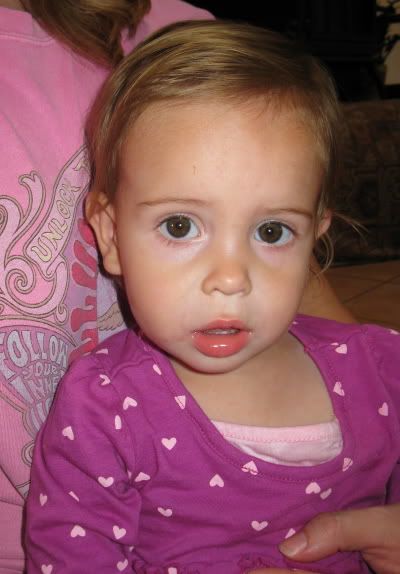 I could not end this with out a photo of the Apple of my Eye; Chloe. Feel free to share any of your favorite apple recipes or memories.