Could Sleep a Week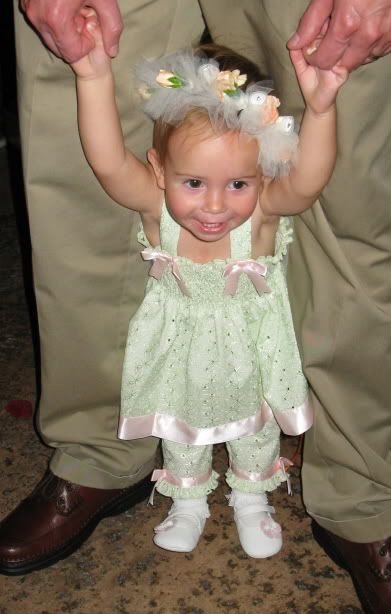 We spent the weekend in Las Vegas for my sister-n-law's wedding. I feel like I need to sleep a week just to get back on track. This photo is of Chloe at the wedding working on walking. The wedding was way past her bed time, but she was a trooper and did not get fussy at all.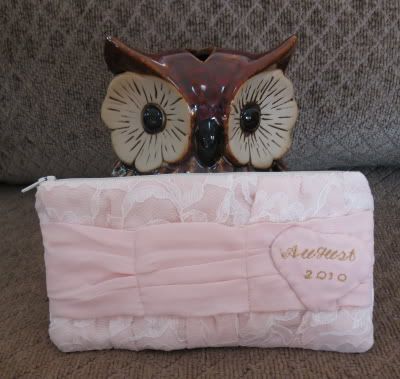 I made the bride a little gathered clutch using
Noodlehead's
tutorial. This was hard using the fabric I picked out a lace and a very silky fabric. I think it would have been a 100% easier if I had just picked out simple cotton fabrics. Here is the front I put a little heart with August 2010 embroidered on the front.
Here is the back. I put another heart on the back with the Bride and Grooms initials.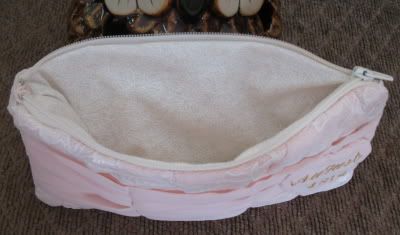 On the inside I used a white fabric for the lining. Overall a great little project and I plan to make some more using some funky fabrics and possibly doing some appliqué to add character. I usually avoid patterns with zippers involved but this came together pretty nicely. If you would like to make your own gathered clutch head on over to Noodlehead's tutorial you will find it
HERE
.
The Granny Stripe
I had been following
Attic24
as she was crocheting her Granny Stripe afghan pictured above. What can I say; I love how it came out and enjoyed watching photos of her progress. This year I have been trying to use up some of the stash of yarn that I have accumulated and decided to take a look and see if I had anything to use for my own Granny Stripe.
I had a bunch of this Baby Bee yarn in the white and blue-purple color. I am obsessed with the color combo orange and pink at the moment so picked up the 2 middle colors to go with what I already had. The colors from left to right are: naked, pink-a-boo, bashful, & berry jam.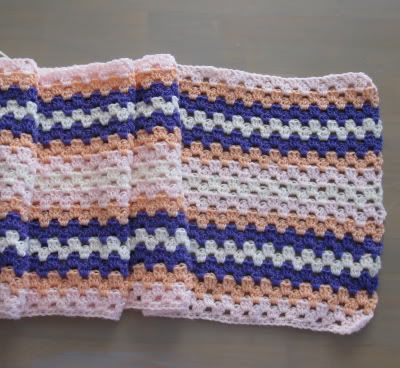 Here is what I have done so far in the stripe pattern I came up with. I love this pattern and it is so much easier for me than making a ton of granny squares. I am making it large enough incase the 3 of us want to cuddle under it together while watching a movie or if we just want to all be toasty together. You can find the Granny Stripe pattern
HERE
.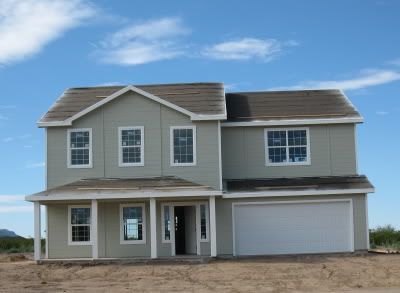 Our new house is coming along. They painted the exterior and still have to paint the front door and put up some shutters. Chris has been able to go inside and check out their progress. He says they have been working on the electrical and the plumbing. I am just happy that there is progress and hopefully they will finish at the projected time. No one I know that has ever built a house had them finish on time, so we will see. I am trying to catch up this week on some work from the office. My plan is to start going through the closets next month and tossing out stuff we don't want to bring to the new house. I am not looking forward to packing up the house. I am much more excited about working on some slip covers, cushions and some furniture I plan to change up a bit for the new house.