Our Summer Vacation 2010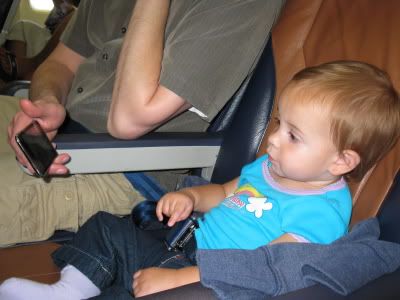 We set out on our summer vacation the weekend of July 4th. There are three legs to this vacation. So I will break it down into three posts Dallas Oregon, Portland Oregon, & Maui Hawaii. So grab yourself a cup of coffee and sit back and relax because this is a long vacation post. Chloe did better this time on the car ride to the airport and also the plane ride.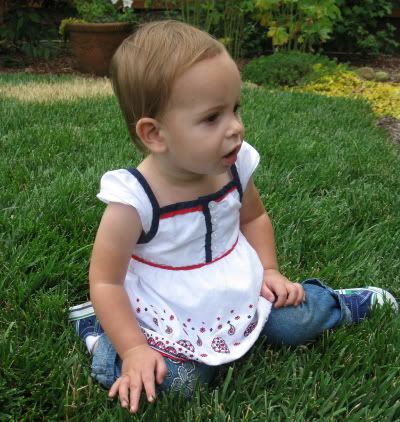 We arrived in Oregon Saturday evening and stayed with my In-laws for a few days in Dallas Oregon. Sunday was the 4th of July and they had a BBQ planned for the day and invited a few friends over to enjoy the day with us. Chloe liked hanging out at the house. They had an island in the kitchen that she would go around and around exploring.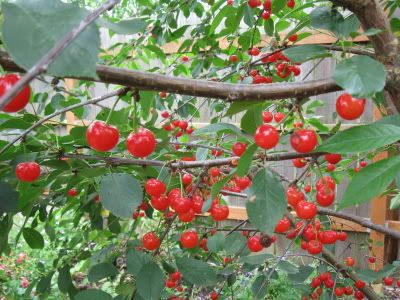 Their cherry tree was full of cherries. I just loved seeing the contrast of the red cherries against the green of the tree. It was a dwarf tree so the cherries were at eye level.
We could not have asked for a better spread of food for the BBQ. There was fresh crab with cream cheese and cocktail sauce to spread on crackers. The main meal was grilled fresh wild salmon with a special mustard sauce. This salmon was to die for, it literally melted in your mouth. There was also corn on the cob and a green salad. The rolls in the photo above were brought by Cathy a dear friend of the family. The rolls were very good, and Chloe could not get enough of them. I got the recipe from Cathy and plan to make them myself for Chloe to enjoy.
For dessert there was a cake decorated like a watermelon and home baked cherry pie made from the cherries off the tree in the back yard. The entire day consisted of many things starting from scratch. Starting from the time they got up and working straight thru the day until people were leaving there was a lot of effort into the day. From cleaning the crab for the appetizer, to making fresh strawberry lemonade by squeezing all the lemons, and finishing by picking the cherries off the tree and baking a pie. I spent most of the day chasing Chloe around and trying to keep her out from under foot. Overall it was a great holiday and we were glad to spend it with family and friends.
Oregon Coast Aquarium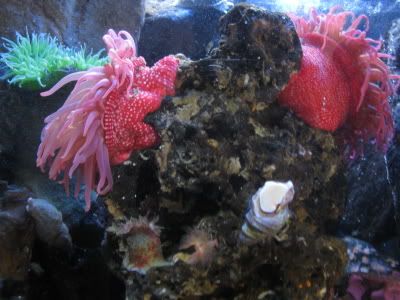 We went to the Oregon coast and checked out the aquarium. Chloe had a miserable time on the car ride over. She hates being locked up in her car seat. Once at the aquarium all was great and we had a good time looking around and learning about the sea creatures. We drove around the coast a little and found a good place for lunch. Chloe fell asleep for a little bit on the way home.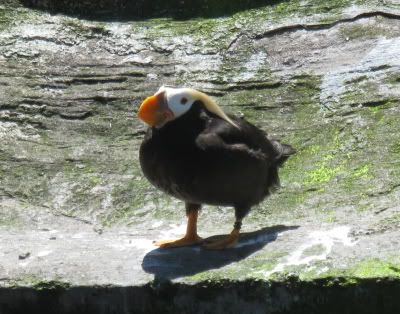 Chloe's first Major Booboo
That evening Chloe got her first major Booboo on her face. I can say we were all a little emotional after it happened. Seeing your child bleeding and crying is a horrible thing. Some times at this age you can't prevent an injury when your child is so excited and able to move around on their own, and not yet aware of the possible dangers in front of them. As a mother of course all the scenarios run thru my mind of the things I might have done to prevent the injury. Chloe seemed fine after the fact and never gave it a second thought. Luckily it was not a major injury and it is almost completely healed.
The Park & Ice Cream
The next day we walked to the local park and let Chloe play on the swings. She loved it. We packed up a picnic lunch to enjoy at the park. The walk was a lot longer than anticipated so the lunch was much appreciated.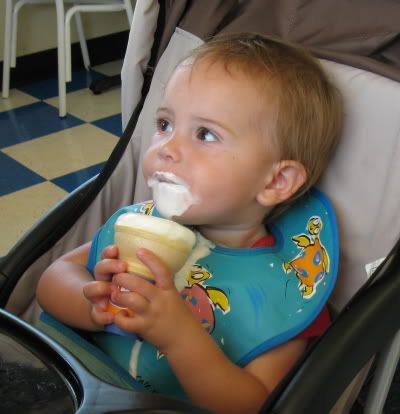 We decided to hit Dairy Queen on the way home from the park. Chloe had her first very own ice cream cone. What a mess. She loved it.
Of course Chloe was completely spoiled by her Grandma Ce & Grandma Lauri while we visited. Not only did Chloe have a room of her own all set up with a pack-n-play to sleep in, and a bunch of toys to play with but they also got her a kiddy pool. Chloe experienced a child pool for the very first time. It took some time warming up the water for the pool. It was worth the wait and Chloe had a great time splashing her grandma and playing with toys in the pool.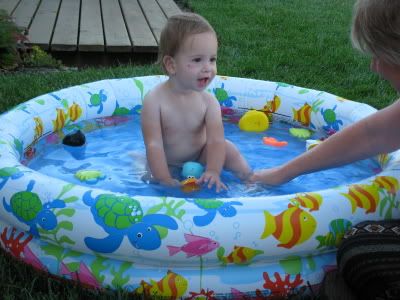 Fabric Shop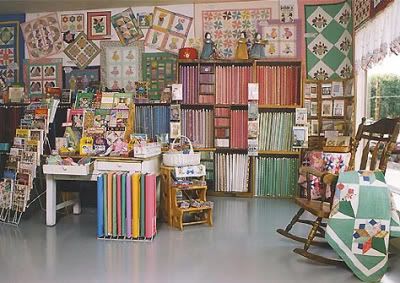 There is a cute little fabric shop in Dallas, Oregon named
Grandma's Attic
. My MIL & I took a little trip to the shop while I was visiting. I wish we had a little shop like this near my house.
I picked up this Charm Posies quilt pattern, Fat Eighth bundle of 8 pieces 9" x 22" fabric titled "storybook VI" in orange colors, small travel scissors with point cover, & a 40 piece 5" square cut pack of Darlene Zimmerman's "Paper Dolls" fabric collection.
Out for Breakfast
They took us out to breakfast at a local place called
Café 22 West
. Chloe had the chocolate chip pancakes. We all had a great breakfast while dining outside on the patio.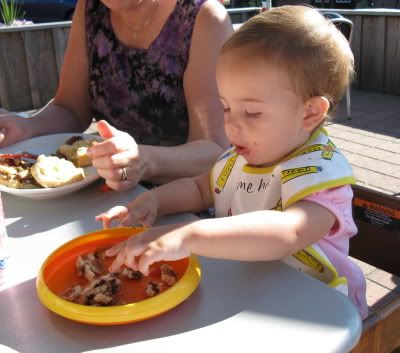 We had a wonderful time visiting with Chloe's Grandmas and look forward to doing it again. We packed up and headed for the next leg of our vacation.