Sunbonnet Sue
We have our own Sunbonnet Sue living with us. For the last couple of days Chloe has insisted on wearing her hat around the house. I have taken to hiding it when she is distracted. As soon as she spots it she immediately wants to wear it. It is pretty sweet, but I have visions of her when she is a little older and insisting on wearing a tutu with purple striped stockings along with a feathered boa & sunglasses to school. She is definitely my kid.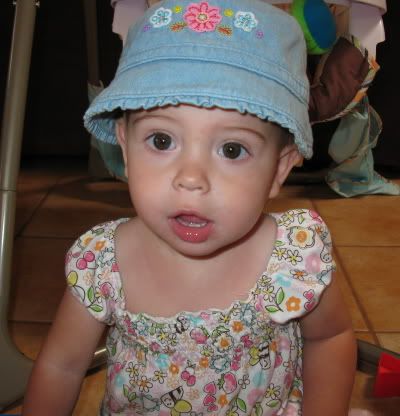 I hope everyone in the states had a wonderful holiday weekend. We kept it low key around here gobbling down lots of watermelon. Chloe tried watermelon for the first time this weekend and she loves it. Eating watermelon is almost a right of passage to summer for me.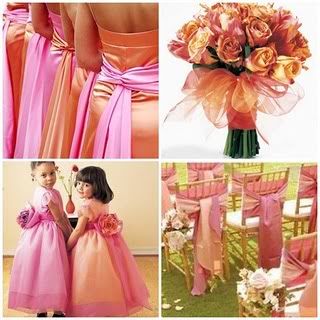 This is the summer of weddings in my family with a total of 3 so far. We are able to only go to one this summer. We plan to go to my sister-n-law, Stefanie's wedding in Las Vegas this August. It seems like people don't have long engagements like they use too, they just go and get married. Chris and I had a year and a half from the time we were engaged to the date we were married. It is nice to have that time to refer to one another as your fiancé, I mean when else are you going to say that. Also it gives you time to get a year subscription to the best wedding magazine. So you can ogle over all the photos and be excited in anticipation of your own special day. Anyway, while surfing the net trying to find inspirational photos to send to Stefanie in some of the colors she was contemplating on choosing for her wedding I came across this inspiration board above from
Prima Donna Bride
featuring a wedding in pale pink & apricot/orange. I would never think to put these two colors together, but I love them. Wouldn't they be great colors for a summer quilt, you never know where you will find inspiration. Although Stefanie has not chosen her colors yet, I certainly have a new project idea to add to my list of things to make.