My Creative Space....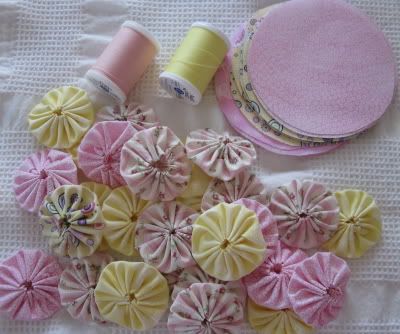 Lately I have been making yo-yo's. This fabric was originally planned for a yo-yo baby mobile. Since I am just now getting to making them and Chloe is now a one year old the mobile might be a little too babyish for her. I am getting into making them and it is a great small craft, easy to pick up and set down while watching TV or running after a toddler. I think I will make a ton of them and possibly string them along to make a yo-yo garland to decorate Chloe's room in the new house. I should have plenty of time to make lots of yo-yo's since the house won't be finished till the end of summer.
New Office Chair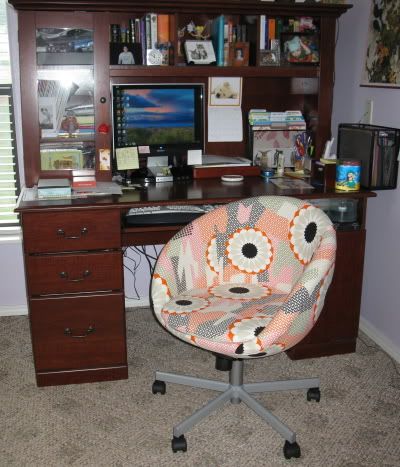 Here is a photo of my Mother's Day gift. I have wanted a new office chair for awhile now. My old one was pretty beat up and was on its last leg. I spotted this
Skruvsta swivel chair from Ikea
. I don't live near an Ikea store and it is an in store purchase only, of course. I was lucky enough to have a best friend whom lives in Oregon and near a store that had some in stock. Talk about the best friend a girl could have she went to Ikea picked up the chair then went to UPS and shipped it to me. I fell in love with this chair because of its round soft curves. Looking around my office, the furniture and large pieces are all straight lines. This chair is the perfect roundness to add to the space. At any given time the cat or the kid is playing with this chair they both like it as much as I do. I plan to make some slip covers that I will be able to throw in the washer, this way I can keep it clean and also change it up depending on my mood or the season.
For more "My Creative Space Thursdays" head on over to
kootoyoo
and join in the fun .