Disneyland 2010
We had a bit of a rough start to our trip. We were all packed up and ready about 30 minutes earlier than we had to leave. So we headed out on our 2 hour car trip to the airport. Chloe is not a fan of her car seat. The time we left was close to her normal morning nap time so we thought we might get lucky and she would just fall asleep. No such luck. I sat in the back seat with her to try and entertain her and help her not to think about being strapped into the car seat. About 20 minutes into the ride to the airport Chloe started to get upset, and it got progressively worse as we went along. We finally made it to the airport.
Plane Ride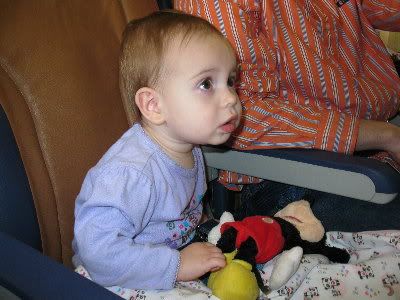 We just sat Chloe in the seat in-between us. I just strapped her in and put a blanket over her lap. Next time I think I will get one of those little pillow lap trays for her. I think it will make it easier for her to eat a snack and also play with something.
Chloe maybe got a total of 15 minutes of sleep on the plane. She was beyond tired and this did not help things. Thank goodness it was a direct flight. We arrived on time at LAX and caught the Disney Bus soon after retrieving our luggage, which consists of 4 suitcases, a stroller, large diaper bag and my purse. The bus ride was about 45 minutes to our hotel.
The hotel
We stayed at Disney's Grand California Hotel. This is on Disney property and walking distance to both their parks and the downtown Disney area. We are members of the Disney vacation club, which is a time share thru Disney allowing us to stay at any of their resorts, otherwise there is no way we could afford to stay there. The room was a one bedroom with a kitchen and sitting area, the bonus is that we had a washer and dryer in the room. I think we used it almost every day. The room came with a pack-n-play for Chloe to sleep in. It also had a high chair which was great. We tried putting Chloe down for a much needed nap but she was not having it. So we decided to go ahead and head out to get some dinner. For dinner we ate at the Creole café. It was heavenly and the best part of our entire day. After dinner we called it quits and headed back to the hotel. Finally Chloe was exhausted enough to pass out in her new surroundings in the pack-n-play.
Crawling Around
The first day into the park we realized Chloe is at the stage were she wants to be crawling around and not confined to her stroller or held for long periods of time. We tried our best to periodically find spots for her to crawl around and pull her self up onto things. She is not walking yet but working hard on her mobility.
Back at the hotel there were a few areas we could take her to crawl around on the fresh cut grass she loved it. She is drawn to all the plants and flowers much like I am. Of course she would find the oldest crustiest leaves and stick them in her mouth. One time we had her in the stroller and were walking around Disneyland and one of the employees stopped us and said do you know your baby is chewing on a plant. We simultaneously said "Yes". She was chewing on a pine needle. On a scale of good and bad things she could possibly had found and popped into her mouth the pine needle was ok as far as I was concerned and she was content to be in her stroller at the time so it actually was a good thing.
Feeding the Kid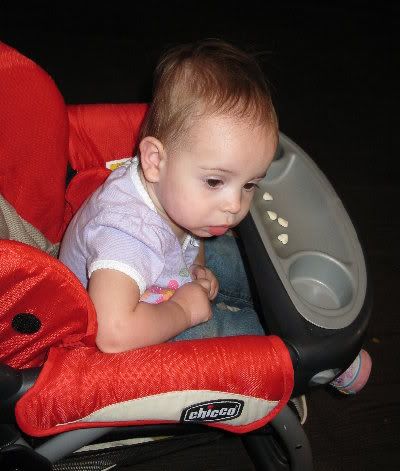 I think Chloe was on a growth spurt the week we were on vacation. The kid was eating all day long every day. I think I was too, but that is the joy of vacationing right? I would just keep the tray on her stroller wiped clean and toss snacks in there for her to munch on thru out the day. She was able to try several of the kiddie meals available. She liked the Mickey waffles, mac-n-cheese, and also there was a meal that had rice bowl with chicken mixed in and a side of applesauce. She loves blueberry muffins so we would pick one up for her daily at the bakery. We also would give her tastes of the things we were eating like the pineapple dole whip, yummy.
Naps
Often we would try to walk around during her morning nap time and try to get her to fall asleep in her stroller. Once asleep we would walk to a quiet area to sit and watch people while giving Chloe some time to sleep. You would often see strollers with kids passed out in them, especially in the evening. My husband takes a nap when he can so in the afternoon both him and Chloe would head back to the room for a snooze. During this time I would either hang out on the balcony of the room catching up on some reading or I would go back into the park by myself. The last full day we were there I went back into the parks and rode some of the rides Chloe was not able to ride. I also wondered casually in and out of all the shops on Main Street. I had the best time and felt foot loose and fancy free.
The Rides
There are plenty of rides and areas for kids Chloe's age at Disneyland. I think the busiest area is Fantasyland and it has all the kiddie rides. If you get a chance to do a magic morning, which allows you into the park an hour earlier, use that time to hit all the rides that normally have the long lines. We also took her on all the other regular rides like the Jungle Boat Cruise, Pirates of the Caribbean, and the Haunted Mansion. One of my favorite shows is the Enchanted Tiki Room, Chloe enjoyed it too.
Character Breakfasts
Chloe's favorite thing on our vacation was the 2 character breakfasts that we went to. A character breakfast is where you go and have your meal while characters wonder around the tables spending time and taking pictures with your family. The first one we went to was located at our hotel it was the Chip'n Dale Critter Breakfast at the Storytellers Café. This one had the characters that would normally be out in the woods like Chip, Dale, Brother Bear, Dakota, Terk & Baloo. The second one we went to was the Breakfast in the Park with Minnie & friends. This one is located inside Disneyland and had more variety of characters like Tiger, Minnie, Captain Hook, the Fairy Godmother, Geppetto, Rafiki, Eeyore & many more. Both places we did not have reservations and walked in and were sat right away. The first breakfast located at our hotel was more enjoyable and cheaper. Chloe loved all the individual attention she got from each of them. It was a lot of fun to watch her interact with them. Here are some of the photos from those 2 experiences.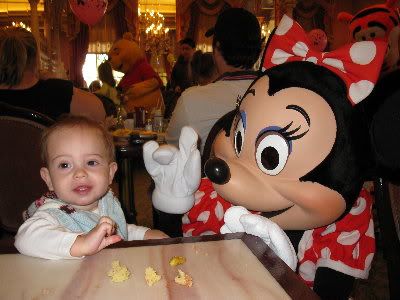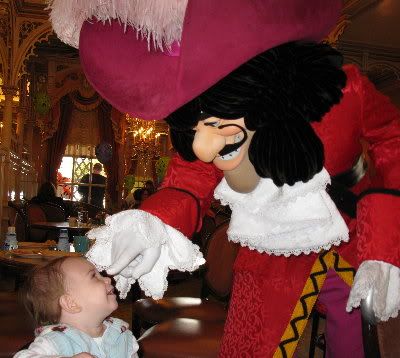 The Wrap Up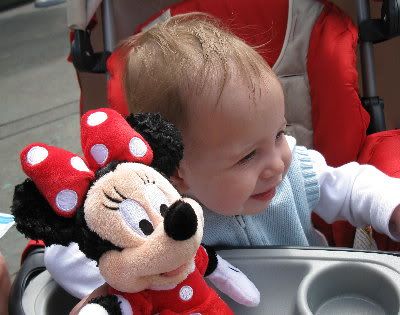 Overall it was a wonderful get away and we have some great memories of the trip. Knowing what I know now and things I would change, first I would check the weather forecast and not assume that it would be sunny and warm. We packed a lot of cute summer outfits never to be worn due to the cooler temperatures. I probably would book the trip a few months later giving Chloe a little more time to start walking first. I would pack more than one change of clothes for Chloe in the carry on bag. I would not pack so many diapers, what was I thinking. I would say that traveling with Chloe at 4 months and also 9 months was way easier than traveling with her at 12 months. When she was younger she just went with the flow and what ever we wanted to do we did. This time we were definitely on Chloe time. It is a good thing she is such a cutie pie.