Sunshine Blog Award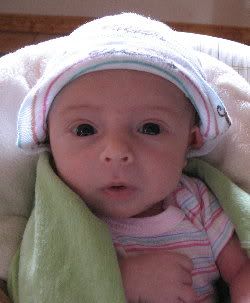 I can not believe my baby is going to be one years old on Thursday. The first photo above is of Chloe at 2 weeks old and the one on the right was taken last week. Amazing how much they grow in the first year. I am planning to make her a homemade birthday cake and decorate it myself. I bought a cake pan that is in the shape of a flower. I am going to make a strawberry cake with cream cheese frosting. I have one of those pastry bags and a handful of tips that have never been used. I am a little nervous about messing it up. I will share all the details and have photos next week once family leaves.
I received the Sunshine Award for my blog from
Loco Ya Ya
. Pretty cool award, thanks so much for thinking of me.
In order to recieve this award I must do the following and you the same if you choose too
1) Put the logo within my blog or on my post
2) Pass the award onto 12 fellow bloggers
3) Link the nominees within my post
4) Let the nominees know they have received this award by commenting on their blog
5) Share the love and link to the person whom you received this award from.
Here are the 12 people I am passing this award on to. I chose 12 bloggers that I might not have mentioned before that all bring Sunshine to my life as I enjoy reading them. Here they are in alphabetical order.
1.
Apple Juice and Milk
2.
Bungalow Bee
3.
Confessions from a Working Mom
4.
Curious Bird
5.
Daily Ramblings
6.
Heart Felt
7.
Hip Mountain Mama
8.
Noodle Head
9.
Silly Precious Piggies
10.
Slugs on the Refrigerator
11.
Tatertots & Jello
12.
The Road to Here