The Saturday Post
Happy Weekend everybody! I am pleased to say no one is sick at the moment in our house. It is so nice to start focusing on other things other than tissues, medicine and getting some sleep.
I received a Dutch oven for Christmas and I have to say I Love that thing. Mine is a 7qt oval cast iron. It is really heavy. I have already used it every week. My new obsession is making soups. I made a broccoli cheese soup a week ago and even Chloe could not get enough of it. I think this might be a way for me to get Chloe to eat more veggies. This weekend I have a butternut squash and Ham recipe I plan to try, and next week I will try a split pea soup recipe. So if you use a Dutch oven and have a great recipe feel free to pass it along to me. I am still new to the one pot cooking and any advice you have would be appreciated. I did try a chicken and rice recipe that bombed badly. It had no flavor and the rice was partly over done and partly crunchy.
Day Care
I might have mentioned Chloe starting daycare at the beginning of the month. I did not want to start her until she was a year old and mostly just for socializing her. I was forced to start her early due to being summoned for jury duty for the term of January 1 thru March 31st. Three months can you believe it? Anyway fortunately I have only been on call the first 6 weeks of the term and will start my scheduled jury duty the last 6 weeks of the term. That is another story and I am sure once I get started with that I will tell you all about it. Back to Daycare, I went to about 6 daycares to check them out and it was a little depressing as to what I found. I finally found one that I liked and they had only one opening in her age group. So I signed Chloe up for part-time.
Chloe really likes daycare. She is such a sponge. The first week she was there she learned to crawl the more standard way. She also learned how to put herself in a sit. This month she has been pulling her self up and standing against things like the couch. Several of the kids in her class are already walking, so I don't think it will be long before she gives it a go. I think that being in daycare and by watching the other kids she has advanced faster than she would have at home. I am very happy with it so far, except for all the germs she brought home making us all sick for the majority of the month. Right now she goes twice a week.
Baby Knits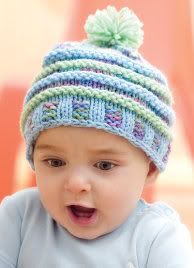 This winter I have seen a ton of cute hats that just inspire me to spend my time knitting them. The one on the left I spotted at thecutekid.com website. The one on the right is Happy Knit Hat from Coats and Clark. So adorable.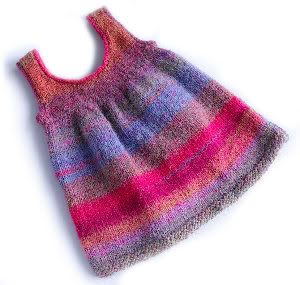 I did purchase some of Lion Brand's new yarn called "Amazing" in color #200. I plan to make Chloe the "Sweet Sweater Dress" pattern is free by Lion Brand. I am hoping in February I will have more time to get back to crafting. Chloe's birthday is in 2 months and I have a bunch of things I would like to make for her. Only time will tell how much I will have time for.
I will leave you with photos taken from my front porch. We were pummeled with another winter storm. So I hope you all have a cozy and warm weekend.