What Day Is It?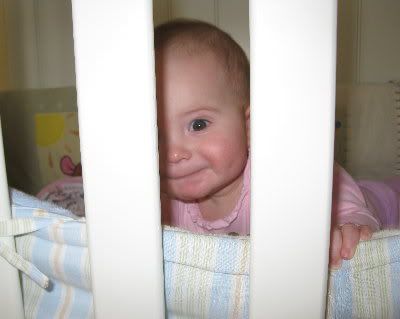 Chloe is doing the cutest thing lately. She has started to push down her bumper in her crib and peek through the bars to see who has just walked into the room. It is so precious I just have to laugh every time she does it.
Lately I feel like I am loosing my mind. I am feeling the crunch of the holidays. I am usually so organized and have it all together. I feel as though I have lost my place in the story book of my life. On any given moment I am asking myself these questions.
What day is it?
What time is it?
Did I rinse?
Where was I?
What did I forget to do?
What am I doing?
Is it time for bed?
I am so looking forward to next week and some time off. This year we do not have any family visiting so it will just be the three of us. I am so glad I do not have to prepare the house for visitors and we can all bum around in our pj's as long as we want. What could I possibly ask Santa for that would ever top my little bundle of Joy? I can not think of anything. I already have everything I wanted. Here are some photos of Chloe.