Winter has Arrived
We already had our first snow of the season. This is a photo looking off of the front porch looking onto the pasture. The temperatures have dropped and we have our pellet stove on high gear to keep the furnace from staying on all hours. I am still shocked that it is already November.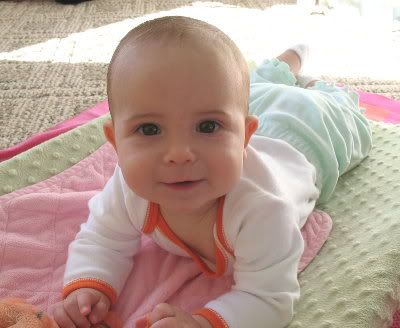 Chloe is doing great. It is amazing how fast she grows. I already have a large box full of clothes that no longer fit. She started giving me kisses this week. They are a little sloppy and she needs to work on closing her mouth and puckering. Oh they are so sweet and I love them.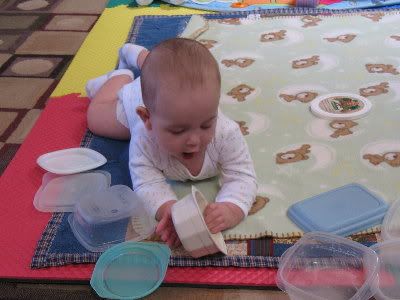 To all the moms out there, have you ever had one of those days that the baby is cranky all morning and the constant noise coming out of the child's mouth is about to send you running for the hills. Well I have had those days too. One day I could not take it any more and went rummaging through the house for a solution. Tupperware, my friends was my answer. I dropped a pile of lids and bowls on the floor in front of her and it was a miracle. She played quietly for the longest time.
Mickey is Chloe's best bud. After being chewed on, dragged around and dropped in you can imagine all the places. Mickey was starting to look a little grungy. It was time to give Mickey a good scrub down. I was a little scared because I only have the one and if I messed him up, I am not sure what I would do. I did the sink bath with detergent and tossed him in the dryer on air dry. He came out perfect and his white gloves were white again.
Friday Favorites
I will leave you with a favorite thing of mine, or at least something I am really into at the moment. Blue Bell put out a Mango flavored ice-cream and we decided to give it a try. This stuff is so good. I am usually a chocolate girl all the way but every time I have some I am blown away at how good it is.