Event at the Waikiki Shell
On the Wednesday evening of our vacation we had tickets to the American Dental Associations Distinguished Speaker event. It was held at the Waikiki Shell pictured above. It is an out door stage with the famous Diamond Head behind it.
We had lawn seating tickets which were perfect. They gave you a straw mat per couple, and sense we had Chloe with us and the stroller it worked out perfectly.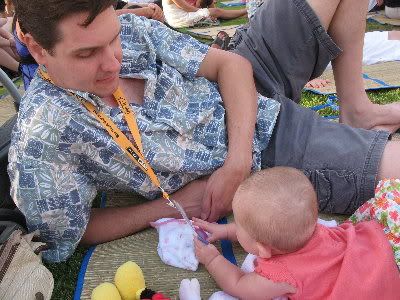 Here is Chris and Chloe lounging on the mat. Wow, my husband is a stud. We have been together for over 16 years and it is nice that sometimes I will look at him and he still has it. LOL. There is something adorable about seeing the man you love play with the child you both created.
The event was early enough to give us some time to relax before the sun went down. Here is Chloe discovering grass. We do not have much of it in New Mexico for her to play on.
Here she is tickling her feet with the blades of grass. So precious!
I thought life could not get better than this, enjoying some family time outside.
The speaker that night was Sidney Poitier. It was hands down the best speech I have ever heard in person by a famous person. He is such a wonderfully great man. He did over an hour long talk about his life and broke it down into snapshots, and it was all about his life before the acting career. Truly fascinating and I will remember it forever.