Beach Baby
Ahhh the Beach! Can life get any better than sitting under a couple of umbrellas and enjoying the surf and sand? We were on Waikiki beach. The days that we spent enjoying the ocean we would rent 2 umbrellas and 2 chairs for the day. We purchased a mat, some beach towels and a small umbrella that we set up each day in front of our chairs as a little baby play station. It worked well to keep Chloe out of direct sun light. You can see in the photo above her beach space.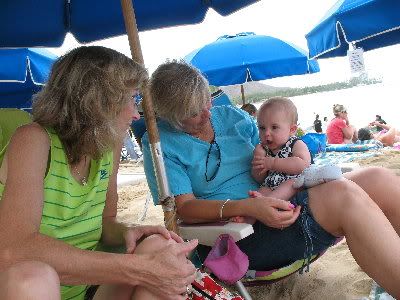 Here is a photo you can kind of see how our umbrella and 2 chairs were set up. This is Chloe and her grandmas enjoying some time together. Chloe is telling them a grand story in secret code baby babble. Lucky for Chloe Grandmas understand every word.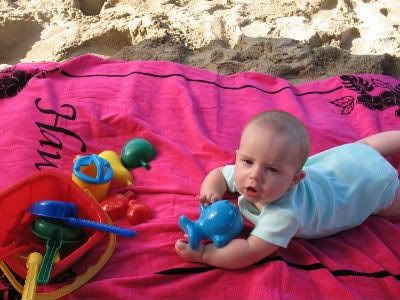 Chloe did great at the beach. I picked her up a pail and shovel with lots of toys. My plan was to actually build a sand castle for my little princess but found my self lazing about enjoying the tranquility of the waves crashing a shore and getting to read bits and pieces of some books I brought.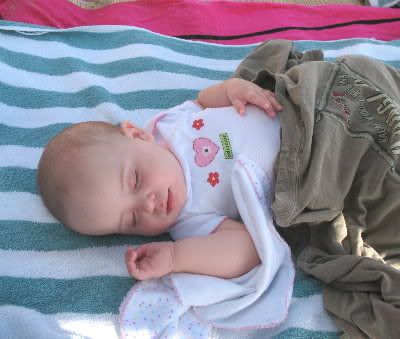 Chloe was not a big fan of the waves crashing in on her toes. I think the next time we take her to the beach we will find a beach that has more of a lagoon, with no crashing waves. That way she can sit at the edge and feel the water gently tickle her toes.
The pool was a bigger success. She liked the pool. Chris brought her in and she would splash around and watch all the other kids playing.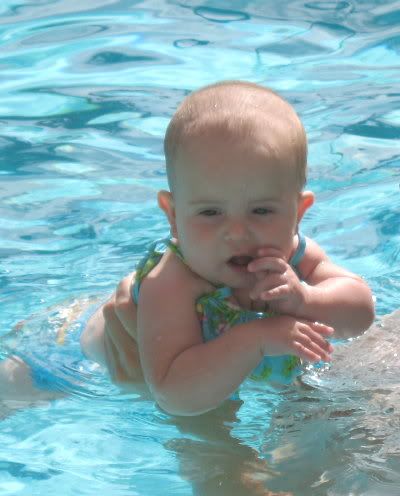 Bringing a 6 month old to the beach is enjoyable. Just make sure to use sunscreen. We bought the spray on kind that worked well and was easy to apply. Also have some kind of sun cover so the baby is not in direct sun light the majority of the time. The cheap little umbrella we bought worked well. We also saw some people who used a little baby tent at the beach. Another recommendation is to use those little swimmers diapers instead of a fancy swimsuit bottom diaper, because if baby goes number 2 in her fancy swimsuit bottom it is not easy to get that off and then you will need to clean them. Not sure where you would do that on the beach. We used the huggies swimmers and when she had an accident we ripped the sides to take it off and easily bundled them up to toss away. Stay tuned more to come of our trip to Hawaii.