Labor Day Weekend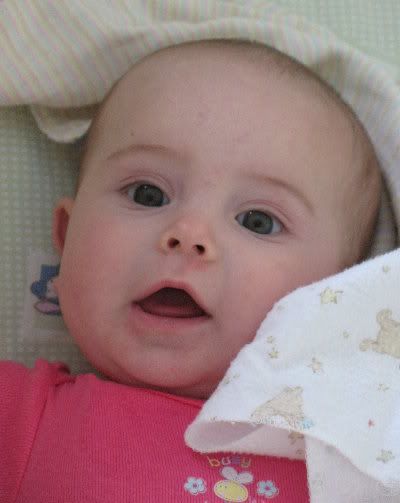 We kept busy around here Labor Day weekend. I was able to work on some projects I started a while back. Chris and I took Chloe to one of the local festivals. She showed great interest while we ate a bunch of junk food. It is starting to feel like autumn, my favorite time of year. It is so nice to be able to open the windows and enjoy the crisp breeze.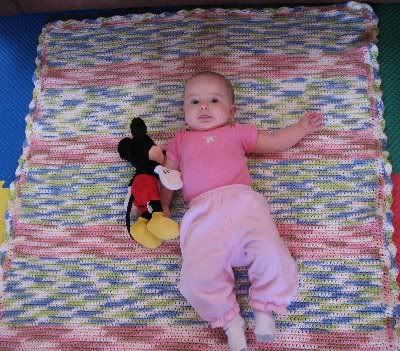 I finally finished the lap blanket I was working on. I just did a basic single crochet through out the body and finished it with a shell pattern around the outside edge. Chloe was my judge on how it turned out. She did several tests before coming up with her conclusion.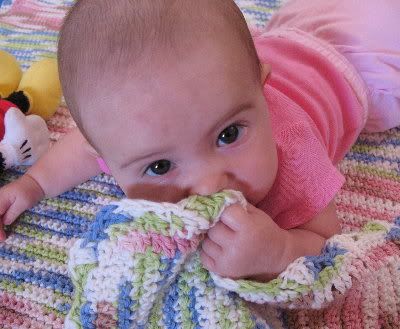 The smell test. Thank goodness I washed it first.
The Touch test.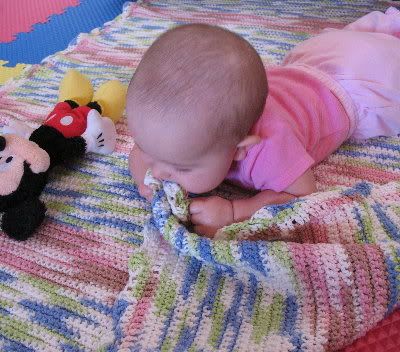 Finally, the Taste test. At this age everything goes right into the mouth for final scrutiny.
The judgment is in, and Chloe approves. It is a big hit.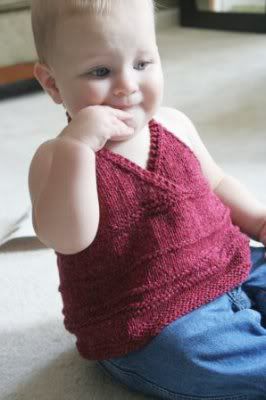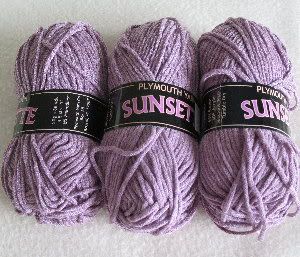 Photo above of a baby girl modeling a free knit pattern found on the knitty website.
Of course I did not wait long to start another project. I have a ton of yarn in my cabinet and my goal is to use it all up. This is my next project; it is called Katja a little tank top designed by Tisra Fadely.. You can find the free knit pattern at knitty in their spring 2006 issue, Go
HERE
for the pattern. I am using Plymouth Yarn Sunsette in color #23 a light lilac purple. It is a rayon acrylic blend so I will be able to throw it in the washer and dryer. It is super soft and feels like an old worn t-shirt, so I thought it would work nicely next to Chloe's skin. I will show you my progress. Today the date is 9-9-09 couldn't resist posting today.