5 Months Old
Chloe is five months old today. This past weekend I was able to sit her up and for the first time she was holding her self up by her arms. From what I have read this is how they will start to sit up on their own. She can only do it for a short period of time then she falls over. This little step is so exciting; I can not wait for her to be sitting up on her own.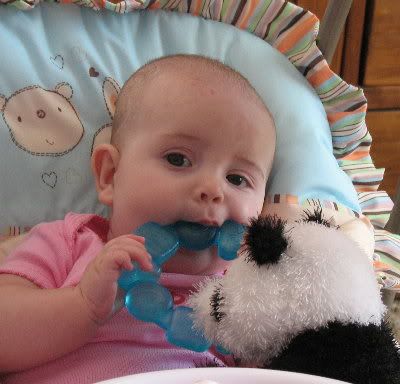 At 5 months she does not have any teeth yet but she is working on it. Everything goes right in her mouth and she chomps down on it. She is doing well with her solid foods. I have increased it to 2 feedings a day of the solids. I give her a mixture of rice cereal & applesauce in the morning and I give her a fruit & a veggie in the afternoon. Sweet Potatoes are still her favorite and she can not stand peas or carrots.
Diapers 101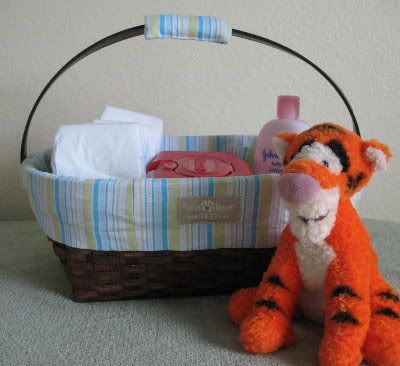 When I was pregnant I decided I did not want a changing table. So what I use is the Sara Bear diaper Caddy. It is a basket with little compartments for all your diaper changing stuff. This made it easy to carry the basket around where ever you do a diaper change. We have found the best way to buy diapers is buying them in bulk. Cost wise you save a lot of money that way. At the moment she is in between size of the brand I usually by so we bought a cheep brand to get us through this size. They work fine except that they do leak more and you end up with more clothing changes during the day. You can also buy the wipes in bulk too. I do not care for the cheaper brand for the wipes. The cheap brand I picked up when I was out of stock, the darn things did not link together so they would not pull up through those wipe containers, very frustrating when you only have one hand. I will not buy the cheap brand again on wipes. When I first started changing Chloe's diaper I had never done it before. I was slow and nervous and it was worse when people were trying to talk to me when I was trying to concentrate on the task at hand, especially if Chloe was crying at the time. Now that I have changed about 1200 diapers, the changing part is pretty easy.
Note from Chloe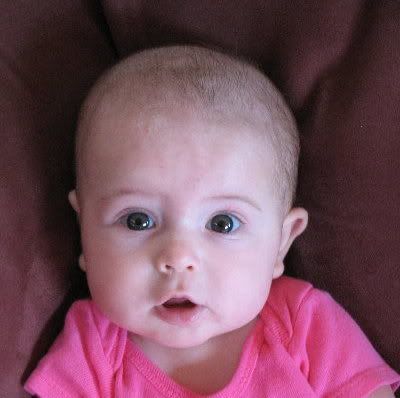 Psst…Hey word on the street, not Sesame Street, my neighborhood is that my Mom was bald as a baby. I can not believe I am just now hearing this. I turned 5 months old today and look at me, just some measly peach fuzz. I have all this stuff I am dealing with like trying to figure out how to crawl, how to get the rice cereal up my nose, & how to avoid naps at all cost. Maybe if I try to make my own hair tonic, I can get my hands on some sweet potatoes and maybe mix it with some applesauce and smear it all over my head. I love sweet potatoes, this might work.