Happy 4th of July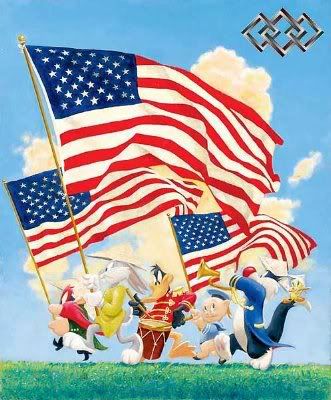 I wish you all a happy Fourth of July. Today we are just bumming around the house and enjoying the day. This giclee was created by renowned Looney Tunes artist, Kirk Mueller and is titled "
Patriotic Parade
". I thought I would stick with the patriotic red white and blue theme for this post and show some cool things I found.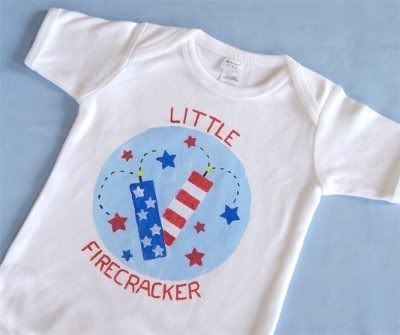 This is a Little Firecracker onesie handmade by
Potatopatch
over at Etsy. She makes her designs using carved potatoes as stamps. She has sizes all the way from birth to 18months.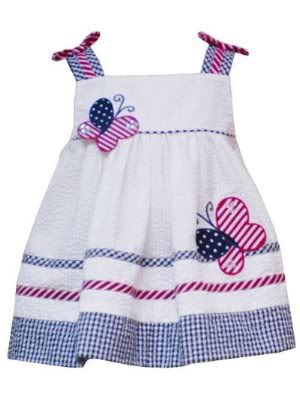 This is the cutest little dress I found over at
Best Dressed Tot
. I could just see a little girl wearing this on the 4th of July spending the day in the sun with lots of holiday fun.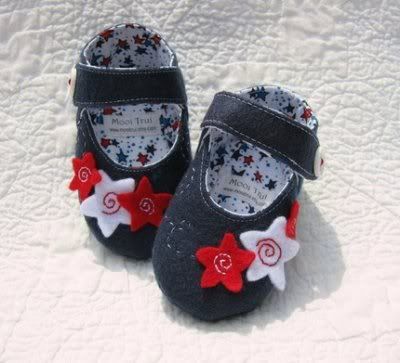 Blue Patriotic Maryjanes by
Mooitui
over at etsy. These shoes are made for babies not yet walking. Ok these shoes are adorable. I keep Chloe in socks right now because she doesn't need shoes yet she is not walking. I try to be practical on this kind of stuff, but these Maryjanes are calling to me. LOL
I can not talk about 4th of July with out bringing up food. Here is an inspirational patriotic cake made by
Amelias Cakes
. I have cakes on my mind, and have been thinking about what kind of cake to make for Chloe's first birthday next year. I know you are thinking that is a long way away. I kind of would like to go all out and make a fancy themed cake, so I will probably need to practice a bit before the real deal.
This is a Mickey Mouse Pinwheel I found over at Disneyfamily.com. They have a whole page on
4th of July craft printables
you can print out and make for your 4th of July celebration.