Chloe's Friends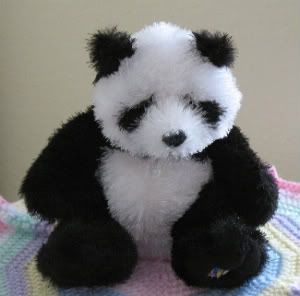 &nbsp
At three months old Chloe has two favorite things. Her pals are Panda & Stitch.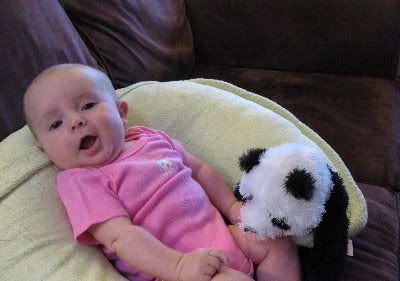 I picked up the little stuffed panda bear when I was pregnant. I had read somewhere that babies can see things with high contrast in color the best. We would always place panda close to Chloe so it was kind of a familiar object for her. Once Chloe was able to grasp panda their friendship took off. She will often bring him close to her face and babble sweet nothings to him. In this photo I think Panda told her a funny joke about Mom & Dad.
It is not all fun and games, Panda is always up for a serious conversation, and he is the best listener.
Stitch is the alien from the Disney animated movie "Lilo and Stitch". I have this blanket with this embroidery of Stitch on it. I keep it thrown across the top of the couch. I did not think anything of it until one day after I fed Chloe I placed her over my shoulder to burp her and she got so excited looking at Stitch. The embroidery was exactly face to face with her. Now I make sure it is placed where she can see it when I burp her. She is always happy to see him and will often babble to him and she will run her hand across him. It is so cute.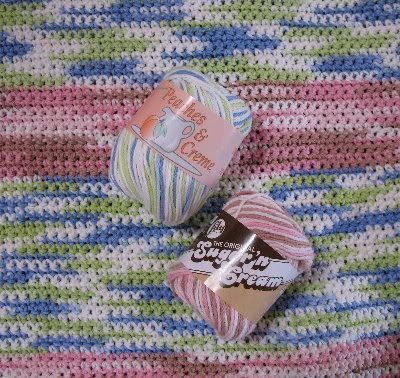 I started working on crocheting a lap blanket. I am using yarn that I had in my stash. The colors are kind of fun for summer. You can not have too many blankets when you have a baby. I am constantly throwing a blanket on the floor with some toys and placing Chloe in the middle of it. The more time she gets trying to move around the better. I have pets, so the blankets are a necessity.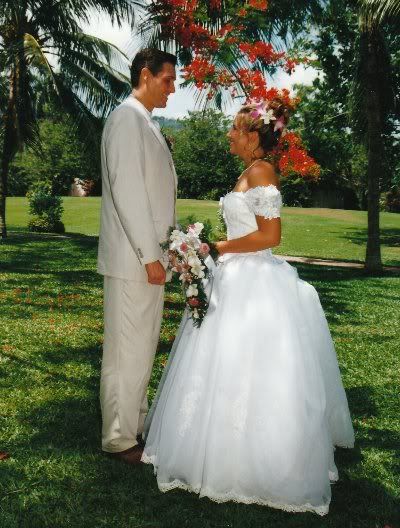 It is my wedding anniversary today. Chris and I have been married for 10 years. We were talking this morning how 10 years ago we were getting up and getting ready for our wedding, and today we got up and changed a diaper. Look at that we have a baby, how did that happen. We have done so many things and accomplished so much in the last 10 years and since Chloe has been born we have already started to make some changes in our plans for the future and planning a few different paths then what we are currently on. For those of you that have followed me these last couple of years you will start to see things unfold and you know that whatever changes come about I will meet it head on and make the most of the wonderful life I am living.