Baby Workout
Chloe will be 4 months old this weekend and she has been working hard on her muscles. I try to rotate her around to various areas so she can play and not get bored. This is an area I have set up in my office. The closet doors are mirrors so I laid down a few blankets and toys in front of it. She loves to look at her self in the mirror and also look at us through the mirror.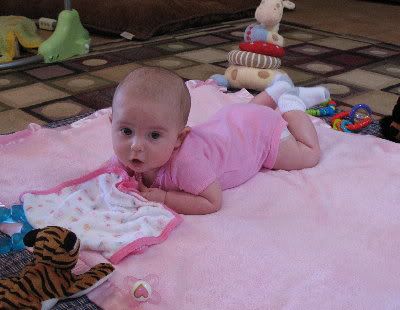 She has been doing real well on tummy time. I try to do 2 sessions a day one before lunch and one late afternoon. I put her on her tummy as long as she will go. She can roll from her tummy to her back.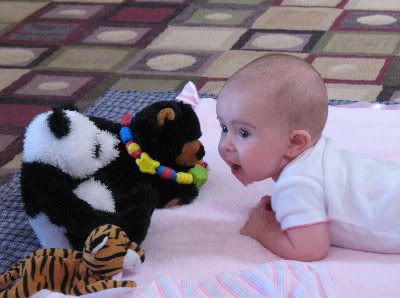 As soon as tummy time starts so does the drool faucet. You can kind of see it dripping from her chin. It just keeps flowing. I can't imagine how much drool she will have once she starts teething.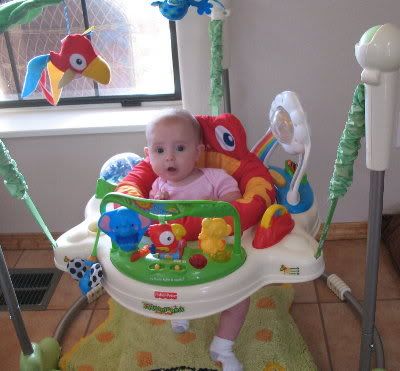 Her favorite exercise place is her Rain Forest Jumperoo. This past weekend we were able to take the box out from under her feet and just have a blanket and frog mat. She likes it when you get in front of her and bounce up in down while she is jumping. It is hilarious to watch her fancy footwork.
I also try to keep her propped up as much as possible, so she will start sitting on her own. This will also help with the flat spot on the back of her head from lying on her back the first few months of life.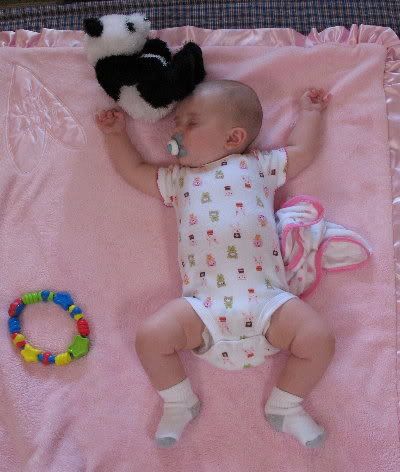 Chloe prefers to be a wake during the day; I can't get her to take long naps. What she does do is play until she passes out. She will usually sleep for about 20 minutes here and there. In the afternoon around 2:00 I will put her in her crib she will scoot around the crib on her back babbling to all the Winnie the Pooh characters that are on her bumper. Eventually she will fall asleep and sometimes for 30 to 40 minutes.