We Made It
I can not believe we made it to three months and Chloe is no longer a newborn and is now officially an infant. She is still small but she was real tiny back in the beginning. She did not fit into nearly all of the clothes we had. She was more of a preemie size. The first month we pretty much swaddled her in a blanket all the time. The biggest event this month was her first bath, she took to it well. The first month was pretty much a blur with all the feedings, & diaper changes and lack of sleep.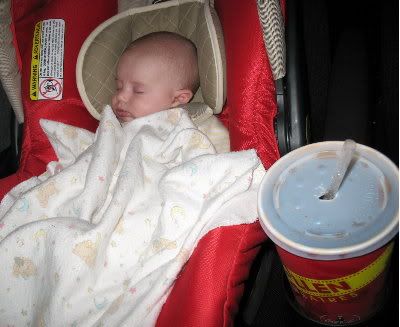 The Second month was much better. I had my first Mother's Day. Chris & Chloe took me to a brunch at the lodge. She was so good while we enjoyed a leisurely meal. We also took her to her first movie. We went to see Star Trek. I packed a bag full of stuff in case I needed to take her out of the theater and sit in the car. She was great and was fine for the whole movie. She did so good that we went to the movies the next weekend and saw Terminator. Again she did great and was fine for the entire movie. We could see the light at the end of the tunnel and getting out of the house I started to feel more normal.
The third month was a relief. Chloe finally started to sleep through the night. This is such a big thing for your sanity. I almost feel like I can not ask for anything else, as long as she sleeps through the night I am good. Another major deal this month was Chris's first Father's Day. I made a really cool picture card for him through the Kodak website. We brought Chloe to the local cherry festival that weekend. I put her in one of those front facing carries that you wear. She did great as we walked around looking at all the craft booths.
I feel now I can finally start to journal about the goings on of our life with Chloe. I will try to catch up on some things in the next few posts.