Fifth Day of Christmas
On the fifth day golden rings were gifted. This is a
mother and child gold ring
by James Russell. There are many versions of this ring available by many jewelers.
I am not too big on the rings, especially since I am pregnant and it is more comfortable keeping the rings off then on. I am a big fan of the baby booty as far as jewelry goes. This adorable charm I found at
Auntie's treasures
. There are several different varieties using different birthstone colors.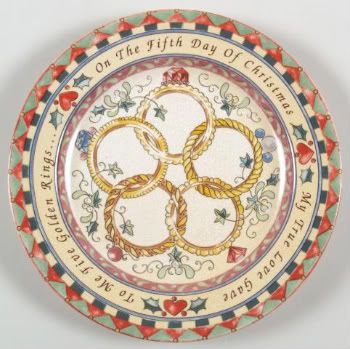 This is the
5 gold rings salad plate
made by 222 fifth. They have the whole set of 12 plates you can by individually or as a set. I think it is a great set for the holidays. They also offer mugs with the designs on them.