13 Weeks
I made it to my 13 weeks of pregnancy. This is my recent sonogram photo. I would have to say getting an ultrasound is one of the coolest things in the world. It looked like a window into my belly and the baby was standing there looking back at me. The baby kept jumping up and down and looked where ever the tech put the probe. I could have watched it all day long. At 13 weeks the baby's fingerprints have formed. I am definitely feeling better. I still fit into my pants but can tell that wont last for long. My next doctor's appointment is October 9th.
Last week I had the urge to knit a teddy bear. It is almost a necessity. So I looked around for some patterns and have narrowed it down to two bears I like.
This first one is the Stars & Stripes bear from Debbie Bliss's Teddy Bears pattern book.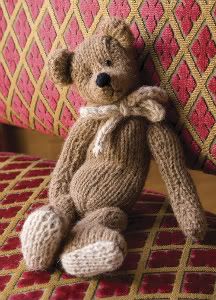 The second one is Classic Teddy Bear by Mary Ann Gebhardt. I found this pattern in Interweave Knits Holiday Gifts magazine issue Holiday 2007.
Maybe I will make them both depending on how the first goes. I also have big plans for reorganizing and getting rid of accumulated stuff in my house. The plan is to start with the garage, then work my way through all the closets in the house. This is the plan for October, hopefully with me feeling better I can accomplish this goal.